Environmental Programme
At ING we believe that managing our environmental impact is key to achieving our goal of being truly sustainable. That's why we monitor and manage the impact of our operations though our Environmental Programme.

The Environmental Programme was established to ensure that we're not only empowering our clients to make the transition to a more sustainable economy, but that we're making our own transition to become a more resource-efficient and climate-resilient company.

ING's Environmental Programme therefore allows us to effectively tackle the combined challenges of climate change and the need for more efficient use of natural resources while also providing opportunities to succeed in the low carbon economy of the future.

Our journey
What has the programme accomplished so far? In 2015 we announced our global targets for reducing our operational footprint. To support this, we have successfully developed our Environmental Management System and Environmental Approach to reduce our global environmental footprint and increase awareness around the opportunities and impacts of energy use, business travel, waste, water and sustainable procurement.
Projects like this have not only helped us in becoming more environmentally friendly but have also drawn the attention of industry analyses. In 2016, we received one of the highest ratings for sustainability from Sustainalytics and the highest ratings possible for environmental reporting and climate strategy on the Dow Jones Sustainability index. We also achieved the highest possible score on CDP's climate change assessment, receiving the Euronext/CDP Leadership award and being included in the 'A-list'.
However, there is still work to be done, so the Environmental Programme is focused on continuously improving our environmental performance in the following areas:
Energy
One of the largest sources of carbon emissions globally is energy production and consumption. To understand and reduce our energy use, we carry out regular monitoring, reporting and reduction strategies across our global operations. Our strategies range from more efficient use of building space, to increasing the energy efficiency of our buildings and data centres, to increasing our use of renewable energy.
Business travel
As a global bank, communication across our network is key. This traditionally required large amounts of business travel. With our Think Forward strategy and sustainability direction however we are focusing on increased use of technology for seamless digital collaboration such as video conferencing to limit unnecessary travel. Where travel cannot be avoided, we discourage the use of air travel where possible and promote the use of public transport and electric vehicles.
Water
The issue of water stress is an increasing environmental issue worldwide. Although as a financial institution our water footprint is comparatively small compared to other industries, we have still launched an extensive monitoring and water reduction strategy to minimise our impact. We make use of water-efficient infrastructure such as rainwater collection for sanitation, aerators for faucets and updated appliances for optimal efficiency.
Paper use and waste
Paper use and waste are also two focus areas due to our concern for the conservation of natural resources. This is why we aim to reduce our use of paper through greater utilisation of digital media and more efficient printing. We are also increasing our use of eco-labelled and environmentally friendly paper and recycle roughly 95% of disposed paper worldwide. For general waste we have focused our efforts on increasing our recycling rate, management of e-waste and overall reduction of residual waste.
Sustainable procurement
While we try our best to minimise our direct environmental impact we also attempt to minimise our impact throughout our supply chain. Our Sustainable Procurement Programme ensures we have high standards of supplier sustainability performance and green purchasing strategies. We employ strict social, environmental and anti-corruption standards and monitor supplier performance via specialised sustainable supplier management agencies. Furthermore, we engage in the transition to the circular economy through our circular purchasing strategy.
Our organisation
The Environmental Programme is headed by our Environmental Steering Committee, which is chaired by ING's chief operations officer (COO). The Steering Committee ensures that the Environmental Programme strategy is integrated into daily business activities and has an impact across the global ING network.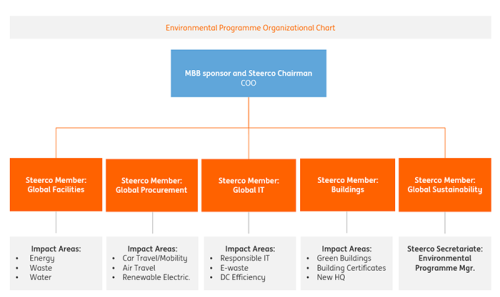 By integrating this programme throughout our core business activities and operations we ensure that our positive environmental impact extends further than donations and community investment but rather takes advantage of the large economic impact ING has on society.
Our commitments
At ING we want to show leadership on environmental performance both to our clients and to the rest of the industry. This is why we committed ourselves to significant milestones in our specific impact areas.
We also have dedicated commitments to ensure our supply chain meets our own high quality environmental standards.
Our progress
Though our programme was implemented only recently, we have already achieved substantial progress on many of our objectives. This is due to the hard work of our colleagues and the robust Environmental Management System (EMS) that we have in place. Our EMS was assessed against the ISO14001 standard and awarded the ISO14001:2015 certification in 2016.
CO2e and emissions

Reducing our direct CO2e footprint is one of ING's key environmental goals. With the help of the Environmental Programme ING has decreased its total carbon footprint by 27% since 2014 while also increasing coverage of our emissions monitoring. This is thanks to an increase of renewable electricity consumption and a decrease in total energy consumption. This progress means that we have already met our previous 2020 target for 20% emissions reduction and are aiming for our new ambitious target target to reduce emissions by 50% compared to 2014 by 2020.
Carbon emissions
in kilotonne CO2e
2016
2015
2014
Coverage (% of employees)
96
95
90
Total extrapolated carbon
74
94
101

Energy & renewable electricity
We want to lead the way when it comes to energy efficiency and renewable energy production. Since 2014 we reduced our overall energy consumption by 11% through efficiency measures and employee engagement. We also increased our consumption of renewable electricity by 14 percentile points.
Energy consumption
2016
2015
2014
Coverage (% of employees)
96
95
90
Renewable Electricity %
91
86
77
In GWh
GWh
GWh
GWh
Electricity
23
38
67
Total energy
367
385
409

Business travel
While our total business travel miles increased between 2014 and 2015 we offset this by introducing more fully electric and hybrid vehicles. Additionally we have increased the overall emissions performance of our vehicle fleet through increased fuel efficiency.
Business Travel
2016
2015
2014
2013
Number of Vehicles
Fully Electric Vehicles
82
75
59
11
Hybrid Vehicles
301
485
473
482

Waste
In 2016 we saw an increase in residual waste due to a slight uptick in coverage, the relocation of our UK office, and archivedumps in Belgium and Turkey.
Residual Waste
in tonnes
2016
2015
2014
Coverage (% of employees)
98
95
92
Total residual waste
3,032
2,714
2,870

Water
Since 2014 our measured water footprint increased overall but only as a result of our expanded monitoring, which expanded by 5%.
Water consumption
in thousands of m3
2016
2015
2014
Coverage (% of employees)
92
91
87
Total water consumption
578
574
572

Suppliers
Through our sustainable procurement programme we have increased the number of suppliers we engage for sustainability assessments as well as the number of circular-economy-based purchasing projects. In 2015 we initiated 21 projects. In 2016 we realised 18 of these projects. While this puts us two projects below our ambition, we are certain that we will achieve 20 projects in early 2017. We also increased the share of local renewable energy we purchase in addition to offsetting 100% of our remaining emissions by purchasing voluntary carbon units (VCUs) from solar and wind power projects in India.
Sustainable Procurement
Unit
2016
2015
2014
Sustainable Procurement
Supplier Sustainability Assessments Engaged
# of Suppliers
647
596
243
Circular Purchasing Projects
# of Projects
18
21
2
Full details on the progress we are making on our environmental objectives and other important environmental data please see the non-financial appendix section on our Integrated Annual Report 2016.

For a bigger picture on how the Environmental Programme ensures ING's continual environmental improvement or our environmental performance please see our Environmental Approach.