Materiality
To ensure that we are always improving as an organization, it is essential to identify and understand the most important economic, social and environmental issues for our stakeholders and how these intersect with what we do. To better understand this we conduct regular materiality assessments to find out what the key priorities are for our stakeholders are and their potential impact on our organisation. The results guide us in our strategic decision-making, stakeholder engagement agenda and reporting framework.
The 2015 materiality matrix
The materiality matrix (PDF 49 KB) as shown below represents the outcomes of our 2015materiality assessment, and combines the outcomes of the 2015 materiality survey among stakeholders and an extensive analysis of the impact of the issues on our business. The issues with the highest priority for stakeholders and the biggest estimated impact on our business appear in the top right of the chart. For our analysis of the 2015 high priority material issues, please see the ING Integrated Report.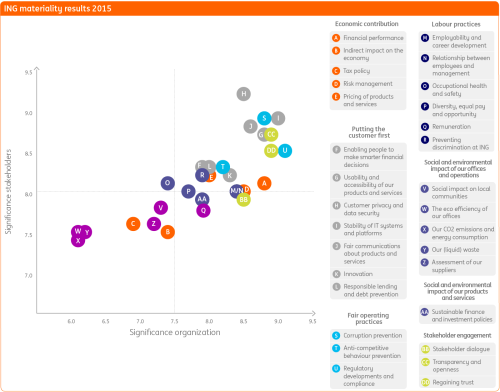 How ING approached materiality
Materiality is a challenging journey we want to approach in the best way possible - it is much more than a 'tick the box' exercise. Each year we strive to make our materiality assessment increasingly representative of our stakeholder universe so we can be confident that the outcomes really reflect the most important issues of the moment. This is a complex challenge, as we operate in over 40 countries and accordingly have a great number of stakeholders, each with different expectations. Materiality at ING is characterized by the following elements:
Identification of issues through extensive research
Identification of material issues was done through desk research conducted in cooperation with an external agency, resulting in a list that represent issues of interest for our sector and company. It took as its starting point the indicators specified in the GRI G4 guidelines as well as issues considered material for the financial sector by the Sustainability Accounting Standards Board (SASB). Other issues were also identified by reviewing the outcomes of ING stakeholder engagement activities (both global and local) and through media scans.
Prioritisation of issues by a large amount of stakeholders
The list with issues of interest was distributed as a Materiality Survey to a large group of internal and external stakeholders worldwide. They were asked to rank the issues by significance.
Collaboration of ING experts to reach out to stakeholders
An extensive network of ING experts, from across business disciplines and regions regularly engages with both internal and external stakeholders, reaching out to a large network of stakeholders through the materiality survey.
Representation of our global stakeholder universe
Our network reached out to stakeholders in five countries and six stakeholder groups. In total, 1,500 stakeholders worldwide provided us with their insights into what issues are material to them. We chose these specific countries and stakeholder groups as they are impacted by - and have an impact on - our business the most.
Integration in the content of our Integrated Report and stakeholder engagement approach
We use the outcomes of our materiality assessment to inform the content of our Annual Report. To learn more about the way we did that this year please see the 'What Matters Most' chapter and other content in the ING Integrated Report. We also use the outcomes to inform our proactive stakeholder engagement approach. This is adjusted each year as the most important material issues from the assessment represent the issues that are more significant to our stakeholders.