Legal team recognised for innovative approach
05 October 2017
...

min read
Listen
5 October 2017
It's one thing for ING as whole to be innovative to continually meet customer expectations, but another for its Legal Department to win recognition for its innovative approach.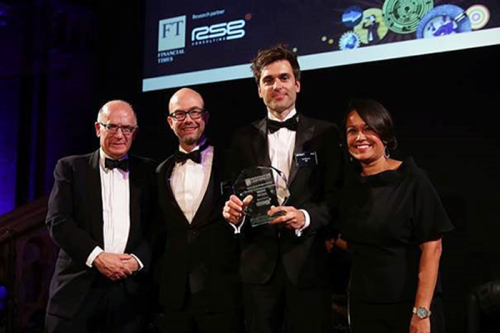 That's exactly what happened last night (4 October) with ING's legal team taking home a prize at the FT European Innovative Lawyer Awards.
The team won an award in the category of 'innovation in strategy and changing behaviours' at this year's ceremony held at the Natural History Museum in London.
A jury paid tribute to ING's innovative efforts saying: "The (ING) legal team has become a leading example of how to innovate at the bank. Lawyers developed ideas for an artificial intelligence tool and global e-signature platform, which are being developed in the bank's corporate accelerator with EUR300,000 and six months invested in each.
"Lawyers also support new innovation projects and products across the business by building virtual teams of experts," the jury said.
CEO Ralph Hamers said the award is recognition for a team that was continually looking at new and innovative ways of working.
"I'm proud of how our colleagues in Legal have gone about adopting innovation into their everyday jobs. This is typified by 450 of our lawyers from around the world coming together to participate in a Legal Innovation Bootcamp.
"All of us at ING need to continue to increase the pace of innovation. It's important that we get faster and better at innovating so we can stay abreast of the pace of change around us. I'm pleased that our Legal team are leading by example."
Related stories
---