Michael's ultimate test
13 April 2017
Wholesale Banking's Michael Dryden put his grit and determination to the ultimate test when he embarked upon the adventure of a lifetime, retracing the steps of polar explorer Ernest Shackleton.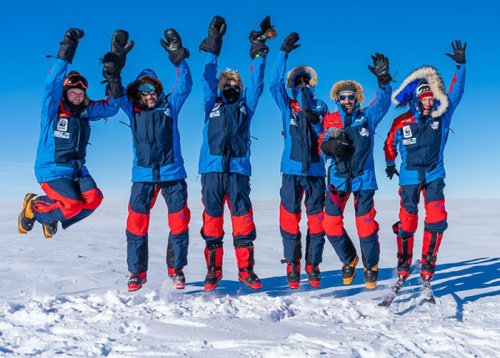 Think you have it tough? Put yourself in the snow-laden boots of Ernest Shackleton. On a trans-Antarctic expedition between 1914 and 1917, he was marooned for more than a year when his ship was crushed by ice.

To get help, Shackleton and crew crossed 720 nautical miles (1,333 kilometres) of the notorious Southern Ocean in a tiny open boat to a remote whaling station. And that's just part of the story. There was also a hurricane, trekking across mountains, cold, hunger, days without sleep… no wonder Sir Edmund Hillary, the man that climbed Everest first, called Shackleton's exploits "the greatest survival journey of all time".

One person who understands a thing or two about the hazards the Irish explorer endured is ING's own Michael Dryden. One hundred years after Shackleton's ill-fated Endurance expedition, Michael, who works for Wholesale Banking in London, embarked on his own Antarctic journey.

Shackleton's missed miles
Rather than following in the explorer's footsteps, Michael and friends covered the final 97.5 nautical miles (180 kilometres) that Shackleton had missed on a previous quest to be the first person to reach the South Pole.

Despite the advances in clothing, equipment and technology, the hardships of Scottish-born Michael's journey were stark. Travelling on skis and pulling equipment and supplies on 'pulka' sleds, his team reached the South Pole on 10 January.

"It was incredibly demanding, particularly for the first five days. When you go through an experience like this, you get a sense of the enormity of what Shackleton and crew did.

"In comparison, our expedition was a relative walk in the park, albeit a very large, frigid, snowy park," said Michael, who dragged a 60-70-kilo sledge up to 30 kilometres a day in minus 30 degree Celsius or colder.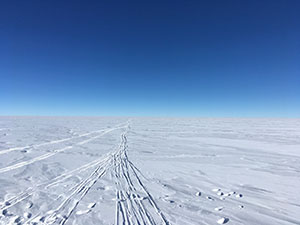 Although they had trained hard, they were not prepared for the effects of the altitude. It led to an emergency situation that tested every member of the team.

"One of our team began coughing up blood and despite enormous willpower to carry on, had to be 'air-vacced' out," Michael said.

To make up lost time waiting for an evacuation plane, the group had to push even harder to reach the Pole. This meant covering an extra 10 kilometres a day in the knowledge that severe winds and minus 42 Celsius temperatures were forecast and that their plane home, which would reunite them with their missing colleague, would not wait.
Real damage
Michael, 50, had his own battle with altitude. On day four of the 10-day journey he was at near breaking point.

"My heart rate monitor showed I had averaged 120 to 130 beats per minute for seven hours all the time with a draining headache. When we finished the day, I spent a worrying half-hour in my sleeping bag sweating, getting even colder and feeling terrible.

"I had managed to keep up with the pace that day, but wasn't sure I could keep it up without doing myself some real damage. I kept breaking the journey into smaller pieces and setting myself little targets to keep going," he recalled.

Although food, water and rest helped to restore him, Michael worried about letting the team down. While he could solve some of his problems himself, like layering his clothes better to stop sweating, the trickiest part was asking for help.

"I was the biggest guy in the team and mentally I thought I should be carrying the most weight. I had helped the others by carrying the odd bag when they were struggling.

"I needed to ask for the same help and even though it was offered, it was still an uncomfortable feeling."

Something different
So why did Michael even embark on such a trip?

"The inspiration came from explorer and polar adventurer Felicity Aston. Our team leader's eldest son raised the prospect of going to the South Pole after they heard Felicity speak of her exploits in Antarctica. It grew from there. Once we started reading the history and the 'romance' of those early explorers it went from a nice dream, to a must-do," he said.

"I have always been up for a new adventure, and doing something different and unique was super appealing."

One of Michael's best friends asked him to join the group. Getting involved in the planning and preparation meant it was a voyage of personal discovery from the start.

"It was a trip that was going to test all of us, mentally and physically."
And now, back in his London office, how does he reflect on such a once-in-a-lifetime trip?

"Not only is there the sense of achievement and being part of an exclusive club, but also the experience of doing it with friends, who I got to know better and respect even more now. It's shown, with direction and dedication, I can achieve so much more, in life and at work," he said.

"For example, I never liked running and the furthest I had run was about seven kilometres. But to get my fitness up to scratch, I entered an Olympic-distance triathlon where I ran my first-ever 10 kilometres after three hours of swimming and cycling. A couple of weeks later as part of my training I ran a half marathon on the way home from work."

Michael adds: "We all have a far greater capacity to achieve. Sometimes a change of perspective is all that's needed. You also gain a much deeper well of endurance and ability. So with hard work and training you can greatly broaden your capabilities."
Orange Code
Michael sees a correlation between his journey and what's known as ING's Orange Code.

"You have to take it on and make it happen. Once committed, we took responsibility for our own training and preparation. We delegated work, critiqued ourselves and our methods, and spoke up about ideas for making things happen.

We also helped each other succeed. We collaborated, listened to input from inside the group and outside consultants, and trusted each other to carry through individual tasks. And being a step ahead is vital under extreme conditions.

You certainly challenge assumptions, particularly your own, as the consequences of getting it wrong can be severe. You have to change and adapt. Weather and circumstances force you to invent and simplify (like losing weight from your sled).

It takes courage to admit and learn from mistakes and in that environment this, as a route to success, becomes very clear."