New phase of Schiphol campaign takes flight
15 February 2017
For the past two years, travellers to Amsterdam's Schiphol Airport will have undoubtedly noticed ING's presence. From the huge billboard outside, to the many banners in the terminals, the 'World, here I come' campaign is scattered all over the airport.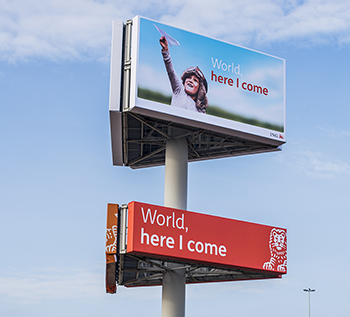 And so it will be for another three years. A new phase of the campaign started last month with a change of picture on the massive billboard at the front of the airport. It's a young girl this time!

"The campaign is much appreciated by travellers," says Sandra Prins, project leader of the Schiphol campaign.

"It delivers the right message at the right place: the place where people take on an international adventure. The messages are empowering and can relate to many people's journeys. That's why we prolong the campaign."

And there's more to come. The airbrigdes will change too. On the outside, new variations to the existing text *Destination*, here I come' will be added, such as 'Recharging, here I come' and 'Going global, here I come'.

How the inside will turn out, you will have to see for yourself. But it will surely make the boarding queue much more entertaining.