Awards ING Bank Śląski
Awards ING Bank Śląski
ING Bank Śląski has received a number of awards in recent months. The Polish bank was honoured with the Trusted Brand Crystal Statuette in the Bank category in the annual European Trusted Brands 2011 survey, organised by Reader's Digest. Brands were assessed according to four criteria: quality, value for money, strong image and understanding of customers' needs. ING Bank Śląski received the highest scores in the last two categories.
Creative ad campaign
ING Bank Śląski was also awarded several prizes in the Polish Advertisement Competition KTR 2011. The ad campaign "ING Fairy tales", promoting the Direct Account, won an impressive four statuettes. The works are evaluated in terms of creativity and originality, artistry, unconventional approach to the subject and applied measures. The competition is considered to be one of the most important in the Polish advertising industry.

ING Bank Śląski's website, www.ingbank.pl, has been ranked the most user-friendly bank website in Poland by experts from the Money.pl portal. Usability studies known as 'Crystal Symmetry' were conducted, asking 2,000 online users to perform tasks such as finding specific information on each site. ING Bank Śląski scored highly in all areas, particularly in the ease of completing each task and user satisfaction.
Ranking
Last, but not least, a Polish survey ranked ING Bank Śląski the number 1 socially responsible company in the financial sector. The bank also received a high 14th position in the overall ranking of a total of 66 companies. The ranking was conducted by the Responsible Business Forum. The Responsible Business Forum is the largest and oldest non-governmental organisation in Poland, providing in-depth research and analysis in the field of corporate social responsibility since 2000.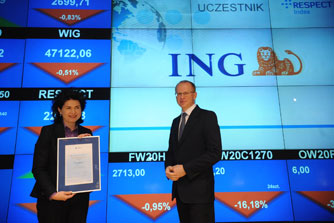 Customer relationships
"Companies are expected to prove their social leadership, dialogue with their stakeholders, social commitment, responsible management and social innovation," says Mirella Panek-Owsiańska, general director of the Responsible Business Forum. It is not enough to be a bank with advanced social commitment programmes. You also need to be a committed leader and have implemented excellent client relationship procedures, for example.

You also need to take into account social and ecological considerations when creating new bank products." Malgorzata Kołakowska, CEO of ING Bank Śląski, added: "A top position among financial institutions in the Ranking of Socially Responsible Companies is proof that we effectively combine our CSR strategy with our business operations. Through our CSR initiatives, we are able to build good, long-term relationships between the bank and our community."
Respect Index 2011
ING Bank Śląski has also been included in the RESPECT Index for the second consecutive year. RESPECT is the first stock exchange index of socially responsible companies in Central and Eastern Europe. Corporate Social Responsibility is fundamental to ING Bank Śląski's operations. The bank is actively involved in the social and economic development of its local and business environments. ING Bank Śląski carefully considers the interests of all stakeholders in everything it does and takes its responsibility seriously.

Click to watch one of ING Bank Śląski's award-winning ads.