En route to Belgium's Fintech Village
8 February 2016
Addocted, Anglr, Cashforce, Delio, HopOn, IsItYou and PayKey. The first inhabitants of Fintech Village, ING Belgium's incubator for start-ups, certainly have unconventional names.
After a tough selection process, including a full day of pitching at the ING Belgium headquarters, seven start-ups were given the keys to ING's Fintech Village at the Eggsplore facility at Diegem, near Brussels. Eggsplore is a large European fintech hub for leading financial institutions, fintech growth companies, investors and other fintech actors. They will move into the Village in March.

The start-ups (see box-out) all offer solutions that are designed to make our lives easier and simpler. Addocted, for instance, introduces POM, a personal assistant on your mobile device for all administrative matters. Anglr helps companies and its employees deal with digital information overload, while HopOn offers a "hassle free" mobile ticketing platform for mass transportation.

David Dab, chief innovation officer ING Belgium welcomed the first start-ups saying that "the opening of FinTech Village is an important step in our plans to bring the best innovation to our clients and the best of ING to fintech start-ups".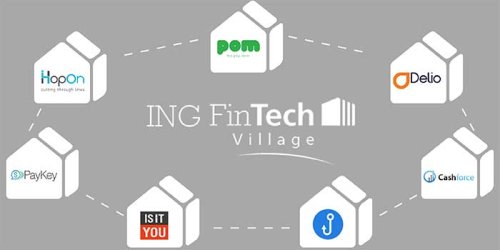 Collaborative ecosystem
Rik Vandenberghe, CEO ING Belgium described the Fintech Village as a "real example of a collaborative ecosystem that has attracted many promising start-ups from the fintech domain".

"We are fully committed to supporting these companies with our coaches. This enables them to accelerate their innovative pace and to stay step ahead in the realisation of their business dreams."

Every village needs a mayor. Philippe Bergez, head of ING FinTech Village, leads the team of coaches that that will support these start-ups and will guide them through a successful acceleration period.

ING Fintech Village is the first Belgian accelerator specifically for financial technology. Core partners are consultancy firm Deloitte and SWIFT Innotribe, a company supporting innovative initiatives. Other partners are IBM, Belcube, Smartfin Capital, Eggsplore, SmartVentures and Startups.be.