24hCodING: Easier wining and dining
18 May 2017
...

min read
Listen
18 May 2017
You're at a restaurant or a pub. Wouldn't it be good if you could order your meal using an app on your phone and then settle the bill later with the same app?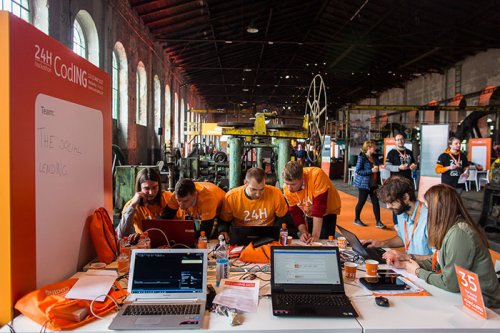 No impatient waiters breathing down your neck, or waiting around to pay.

That's exactly what the winners of ING's third global hackathon in Katowice had in mind. Speednet, an external start-up from Poland, developed their PubbING app in only 24 hours. In doing so they won a trip to Silicon Valley for their trouble.

"We wanted to provide a solution to an everyday problem for the 'average guy'," explained team member Karol Moluszys.

Maximum impact
The idea was a hit with hackathon judges, with jury member Michal Paprocki, the CEO of ING Services Polska, saying the idea could have the most impact with relatively little effort.

"It could be brought to market relatively quickly and has a broad spectrum of retail use. It touches a mass base so as a global bank with millions of customers, it is very interesting for us (ING)."

Michal also said PubbING "breaks with traditional banking" and "extends the relevance of a bank by offering products that really are relevant to the customer".

The 24hCodING event, held in an old zinc rolling mill, attracted close to 400 IT engineers in 55 teams from around the world. Their challenge was to show what an open ecosystem of financial services looks like.

While many engineers came from ING business units as far away as Singapore, external vendors, start-up engineers and IT students were also well represented.

The theme of open ecosystems is one that many financial institutions are grappling with.

"We don't have a crystal ball, but we believe banking in the future will have an open platform connecting services from different players. So we asked people what they think should be on that platform," explained Bank CIO Ron van Kemenade.

ING a 'techie' company?
The event proved to be popular among engineers, with Karol perhaps summing up the thoughts of many.

"This was actually my first hackathon. It was very well organised and we are extremely pleased to win. We are always on the lookout for hackathons like these. It is great fun and it's nice to meet other developers and to see what kind of ideas everybody is bringing in.

"Of course, I knew ING in Poland but I was not aware ING was so playful and such a 'techie' company, also organising events like these," he said.