"Always remember what banking is about and manage for the unexpected"
31 July 2017
...

min read
31 July 2017
On 1 August, Wilfred Nagel is retiring as Chief Risk Officer of ING Group after more than 25 years with ING in Singapore, Hong Kong, New York, Turkey and Amsterdam and in both retail and Wholesale Banking. He is being succeeded by Steven van Rijswijk, whose career in ING Wholesale Banking included roles as Global Head Client Coverage and Global Head Corporate Clients ING. The two reflect on valuable lessons from the past, challenges for the Risk function in an age of big data and banking disruption and share some final thoughts as they pass the baton.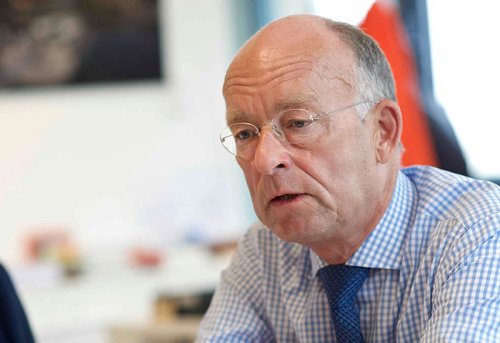 Wilfred, you started as CRO in a period when we were working our way out of a crisis and are leaving in a period of growth and renewal. A good time to be handing the baton to your successor?
WN: ING has made big strides since the crisis strengthening its capital. We've become one of the best capitalised banks compared to peers. We've also strengthened our balance sheet, both in terms of quality and diversification. That shows in our relatively low risk costs and strong stress test results. The balance sheet is much more focused on customers and much less on professional funding and proprietary assets. You see that in things like the increase in customer lending as a percentage of total assets. That focus also shows in customer satisfaction and in the growing number of customers, particularly primary customers. We're not done yet, but we can be proud of where we are now.
Going from a bank in crisis to one of the strongest banks in Europe was a remarkable journey for ING. What for you are the key learnings from that experience?
WN: Most of the things that led to the crisis weren't new. Like excessive asset concentrations. That's one of the first things that leads to problems. You can have too much of even a good thing. Always remember what banking is about and manage for the unexpected. A high probability of a positive outcome of a risk we take is a 'nice to know' – the impact of a low probability disaster is a 'need to know' that we should protect ING against. The crisis also showed that combining banking and insurance in one company doesn't lead to the diversification benefit you might think. The liability side is diversified, but the asset side much less so. Splitting banking and insurance reduced complication, which is a good thing. The simpler the safer.
The crisis revealed weaknesses in the financial system. You've been outspoken at times about the measures policymakers and regulators have taken to address that. Has the right balance been struck between safety and the proper functioning of the financial system?
WN: Regulation is more effective if it's simple and focuses on the key issues. The emphasis on more capital is not necessarily the way to make banks safer. There's a saying in the financial world: a good bank doesn't need capital, a bad bank never has enough of it. Basel IV aims to make risks more comparable and transparent. That's a good thing. But setting fixed capital levels doesn't fully address the issue of risk. You need to know what's happening under the hood to know whether a bank has enough capital. How good are the assets? How good is the loan book? Are clients segments diversified? Are there overexposures? The current regulatory capital regime does not address all of that sufficiently.
Steven, you've spent your ING career up till now in Wholesale Banking. You had a lot of contact with clients and in recent years you led the programme to transform Wholesale Banking's client experience. What motivates you to take on the CRO role?
SvR: The primary role of risk is to make sure that we remain within our risk appetite and boundaries, related to our strategy. But risk also has a role to play in helping the business seize opportunities at adequate risk-return levels. An example is the development of financial risk models for credit analysis based on big data. The customer experience is the differentiator. That's what our future success depends on. Customer behaviour is changing, technology is developing, data is growing in importance. Analysing vast amounts of data and customer behaviour can help us to understand and act on potential issues with loans, based on early warning signals. At the same time, the information can also help us serve customers better. Like we're now doing in Spain and Poland with faster approval of loans, less administrative hassle, and through pro-active service offerings to our clients. I'm looking forward to partnering with the business to develop the skills to turn these into advantages that will benefit our customers and ING.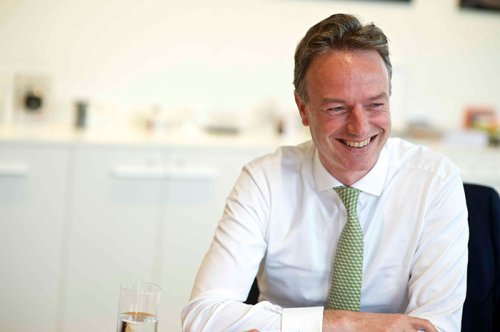 What do these changes mean for the Risk function itself and how will it adapt to that?
SvR: One of the most important things Risk needs to do to support the Think Forward strategy and mitigate risks from the transformation is to increase the focus on data. There are numerous teams in ING translating data into information for monitoring, for modelling, for reporting but also to support a differentiating customer experience. Risk has a key role to play there. Automation is increasing and that has implications for risk. Risk parameters are increasingly defining the acceptance criteria for underwriting new business. In other words, risk models are at the forefront when credit decisions are made. That impacts the cooperation between front office and risk management.

Data analysis is also playing an increasing role in managing our non-financial risks, including fraud, compliance, it and operations. That should be an integral part of our focus.
The digitalisation of banking, open platforms and other developments don't just bring internal challenges but also external ones. What are the major ones Risk will be focusing on?
SvR: Cybercrime is a serious concern. Cybercrime attacks are now 10-20 times bigger than in the past. These also include state-sponsored cyber attacks. Another issue is associated with the open source environment in which our platforms and applications are being developed. We work closely with IT development teams on the criteria they need to follow to prevent malicious software from infiltrating. Thirdly, as banking gets more digital, society and regulators are focusing more on the risks for customers' assets and data. As a bank, we need to make sure these are safe with us.
Wilfred, your career at ING spanned almost three decades. How have you experienced ING's culture in that period and how has it evolved? Where do we need to develop in the future?
WN: I've been with ING for 26 years, and I can honestly say there was never a single day when I regretted joining ING. It's been a fantastic run. We have a healthy culture that puts us at an advantage compared with many peers. That comes from our roots from NMB as an SME bank and from Postbank as a retail direct bank. We're not perfect – we make some mistakes. But our people are motivated by doing the right things. They're genuine and honest and really try to do their best for the customer. Money isn't the main motivator. You see that in the fact that we attract and keep top people but aren't paying the highest salaries. Has the culture changed? No, not in the core, and it shouldn't. In recent years we've made more effort to make it explicit, like in the Orange Code. That's a good thing, because it strengthens the culture.

For the future, perhaps we should try to be a little less Dutch-centric. Sometimes I think there's a bit too much of an assumption within ING that the closer you get to Amsterdam the smarter people get. There's a lot of talent and valuable viewpoints within our global organisation that we can tap more into.
Steven, how do you define success for yourself as CRO and for the Risk function?
SvR: The risk function is part and parcel of ING's overall mission and the success of the Think Forward strategy. Within that there are a couple of elements that define success. Firstly, operating within our risk appetite in all risk categories and being recognised by all of our stakeholders for the quality of our risk management. Secondly, being seen as leaders in how we develop data capabilities – both internally and with external partners – for monitoring purposes and to optimise the customer experience. And thirdly, for Risk to be seen as a centre of talent in a changing world in which risk managers need to develop new skills. During a recent visit to Silicon Valley we stopped at PayPal. They have thousands of employees working in Risk, but they're not traditional risk managers – instead they're mostly data scientists, developing algorithms. That's an eye-opener.
As of 1 August, the baton passes between you. Parting thoughts for each other?
WN: Banking is 50% common sense, 30% experience and 20% science. When in doubt, trust the first two. And work harder on number three. In every hundred credit decisions, on average you'll get two wrong. Make sure none of them is too big. Keep that in mind when you're pursuing growth. And Steven, you're also taking over the sponsorship of the ING International Talent Programme (IITP). That's a role I really cherished and I'm proud we transformed the IITP from a general management training programme to one that teaches people the art of banking and their part in that. Take that forward and cultivate it so ING will have the leaders to make it successful in the future.

SvR: I feel that I'm filling some really big shoes. But also that I and ING will benefit in the future from the great work you've done, Wilfred, to get the Risk function to the good place it's now in. It's been great working together through a whole quarterly cycle to ensure a smooth handover. Thanks for your guidance, and don't be surprised if I call you from time to time in the future for some more of it.