Answers for supply chain planners
08 June 2021
...

min read
Information is essential to making good decisions. But what happens if you don't have it?

This is often the case in supply chain management, where planners don't always have access to the real-time data necessary to predict unexpected changes in customer demand. Those days may soon be behind them with Stemly, which uses artificial intelligence to give supply chain managers the answers they need.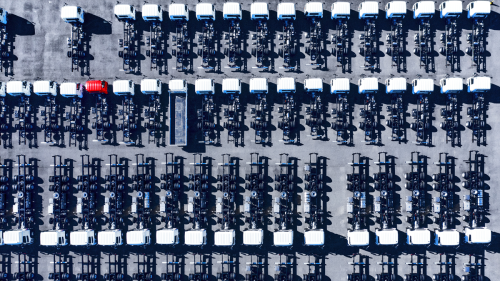 Stemly is the first spin-out (independent company) to come out of ING's Singapore innovation lab. This means that Stemly will operate independently but continue to work closely with ING to commercialise its solutions. The company will also have access to ING's global network and financial services expertise.

To enable accelerated growth and to pave the way for an independent future for Stemly, ING Ventures, alongside venture capital fund Elev8, the Singapore Economic Development Board New Ventures and other investors, will invest $2.5 million into Stemly.
Better and faster
Effective supply chain management is a lot of work, even in good times. For products to constantly flow back and forth from suppliers and manufacturers to distributors and consumers, companies need to accurately predict and respond to market and demand changes. It becomes even more challenging when demand and supply fluctuations are amplified by unexpected global transport or health issues, such as the coronavirus pandemic.

Even though supply chain databases are updated with thousands of pieces of information each day, extracting value from them remains difficult. For instance, in demand planning for manufacturing and retail, it may take three weeks or more to respond to market changes in consumer behaviour, which results in overstocking and loss of sales.

This is where machine learning comes in. It can spot patterns in messy data and predict disruptions to the supply chain.

"We are helping businesses save 10% to 40% of their cost of inventory and working capital – the equivalent of tens of millions of dollars in some cases – by embedding automatic machine learning in their forecasting and optimisation applications," said Stemly co-founder & co-CEO Giuseppe Manai.

Stemly uses autonomous machine learning technology to forecast customer demands and help supply chain managers make better and faster decisions. If companies build Stemly's software-as-a-service platform into their supply chain operations, they can capture, analyse and easily access real-time data. This increases supply chain responsiveness.
Disrupting ways of working
"Our investment in Stemly is a natural extension of our innovation strategy, where we identify solutions that disrupt existing ways of working and add value to our clients," said Frederic Hofmann, managing director of ING Ventures.

"We see Stemly as a great value-add to customers as it enables them to make well-informed business decisions and formulate data-driven strategies along the supply chain. We are glad to see the market appetite in the funding round, which is a testimony of the company traction and the size of the problem it is solving."

Olivier Guillaumond, global head of Innovation Labs and Fintechs at ING, considers Stemly's growth from ING Labs another success story of innovation at ING.

"Demand forecasting, supply chain optimisation and cash flow forecasting help build resilience in the businesses of our customers. Our aim is to always help our customers stay a step ahead, and our efforts with Stemly are testament to that."
Related stories