Appointment of Aris Bogdaneris as head of Retail Challengers & Growth Markets
25 March 2015
...

min read
Amsterdam, 25 March 2015
ING appoints a new head of Retail Challengers & Growth Markets: Aris Bogdaneris. Meet our new board member.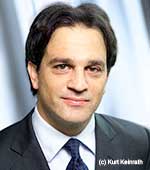 Aris Bogdaneris (Canadian nationality, 1963) joins ING on 1 June 2015 as head of Retail Challengers & Growth Markets and member of the Management Board ING Bank.
Below, he answers four questions about his experience, the future of the banking sector and his management style.
You are joining ING from Raiffeisen Bank International. What attracted you to ING?
In the markets where ING and Raiffeisen both operate, ING has always impressed me as a dynamic competitor with an incredibly strong brand and a reputation as an innovator and disruptor in financial services. In fact, ING-DiBa in Germany was my inspiration and model for ZUNO, the internet bank I launched for Raiffeisen in 2010. Above all, it is ING's purpose and strategy that really attracted me. Think Forward is a vision that I want to play a part in realising.
What experience gained in your previous roles do you bring to ING?
I have experience in all aspects of universal banking, in particular retail banking, information technology (IT), operations, process management and risk. Working as both a business leader and COO has given me a very valuable perspective on the entire value chain of banking.
Having built and managed an internet bank from scratch, I realise the importance of sourcing talent not only with expertise in banking, but also those with experience of online retail, digital marketing and user experience design, to name just a few.

I also learnt that innovation is less about the actual features provided to consumers, and more about better managing data and analytics, acting on the constant flow of customer feedback received, and redesigning processes for simpler, more efficient delivery. You have to build a "test and learn" culture to keep improving processes and optimise the customer experience. Innovation is driven by the courage to try new things.
I also hope to bring a certain management expertise and competence gained through managing and transforming a group of diverse banks across a wide geographic footprint.
My former employer served 14 million customers in 16 different countries across 11 time zones, and I've learnt a lot from the challenges that come with that!

What's your view on the recent past and future of the financial sector?
People are becoming more "digital" and self-directed in everything they do. Banks must provide them with the appropriate technology – and a seamless experience – to make banking easier and more convenient. Digital banking, and in particular mobile banking, will continue to grow in prominence in every market.

But digitalisation is more than a pretty customer interface. Core banking applications and processes must be redesigned to deliver customised products and services to groups of customers or even individuals. Banks who are capable of adapting their internal processes to the new digital reality will be the ones to find, win and retain more customers.
Non-banking market entrants and disintermediators will play an increasingly important role in shaping the financial services landscape. The risk for banks is these 'attackers' entering the most profitable and least regulated parts of the value chain with new products and new business models. Banks need to be on top of these developments and adopt aspects of these new and innovative models to protect themselves and even gain competitive advantage.
The other area where banks can beat the competition is in how they use the massive volumes of unstructured data – the "big data" opportunity. Determining which data to capture and use - and which to ignore – to create more competent offers, better underwrite risk and deliver improved and faster services will also improve customer loyalty.
I expect the European Banking Union to develop slowly at first, but over time it should create a much more transparent and level playing field when it comes to capital requirements and liquidity buffers, while removing some of the existing barriers to moving funds between EU subsidiaries and branches.
Finally, can you say something about your management style?
I'm a 'down to earth' person who is always accessible and open to staff at all levels. I believe very much in empowering those around me. In return, I expect everyone to keep their promises and deliver on their commitments. This approach builds a virtuous circle of trust. Those who know me would probably describe my management style as both energetic and motivating.
I've been a history buff from a very early age, and have always been inspired and motivated by leaders who faced insurmountable odds or setbacks but who persevered and eventually prevailed. I could mention many such examples, but my favourites are probably Winston Churchill and Vaclav Havel – two very different models of leadership.
Biography Aris Bogdaneris (PDF, 58 KB)