Banking with bots
24 August 2017
...

min read
24 August 2017
How can ING deal with customer requests faster than ever, 24/7, via Facebook, Twitter or even a smart device like Google Home? Bring in the bots, or 'software-driven brains'.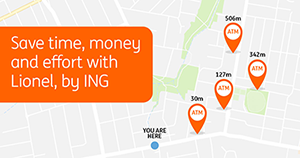 "The days when customers could only contact ING on its own platforms are fast disappearing. In Australia, we have a chatbot that interacts with customers on Facebook Messenger. He can't access personal data, yet, but does tell them where the nearest ATM is. He's called Lionel and customers love him."

And Lionel is not ING's only chatbot. As part of a global initiative, ING is working with AI (artificial intelligence) technology in both Retail and Wholesale Banking.
Brain surgery
Currently, ING engineers are currently operating on Lionel's 'brain' to teach him to answer more complicated questions than those that are rule-based, giving him access to an expanding pool of data. And Lionel has company. Like Marie, in Belgium, a chatbot that will be launched on 29 August on Facebook Messenger to a first group of 25,000 retail customers. She too has undergone intensive surgery.
"When Marie was conceived, her capabilities were limited. But when she goes 'live' she will be able to deal with all sorts of questions around debit and credit cards," says Tim Daniels, programme manager of ING in Belgium.

"If you're on holiday and there's a problem with your card, Marie can fix it instantly via Facebook Messenger on your phone, probably before you've even finished your coffee."

And why the name 'Marie'?

"It conjures up an image of someone who is helpful and friendly," says Tim.

"Everyone knows a Marie."
Am I broke?
Like a human brain, a bot gets smarter the more it learns. One of the biggest challenges for chatbots is to properly understand what is being said to them and learning the correct response.

"If a customer asks a question about their credit card, and then follows it up with a question that uses the word 'it' instead of 'card', Marie has to remember they're talking about the card. This is easy for a human, but it's something you need to build into your chatbot," says Tim.
What Dutch chatbot avatar Inge, Belgian Marie, Australian Lionel and Wholesale Banking's chatbot Bill all have in common is that they use 'natural language processing' to help them understand what their customers are talking about.

"Most of us don't use words like 'transaction' or 'balance' when we're chatting with friends or family," explains Amit.

"We're more likely to say, 'have I got enough money for a weekend break?' Or, 'am I broke?'" Chatbots are learning that language is bringing ING closer to its customers.
Inge, who started life as a 'Siri like' voice-driven chatbot in the ING Mobile Banking app, will soon re-appear in text-driven discussions on the website of ING in the Netherlands, ing.nl. Florine van den Adel, AI expert at ING in the Netherlands, explains that Inge will pop up when a visitor asks a question she's has been programmed to answer. It's called 'pro-active intelligence assistance'.

"Not too long from now we expect Inge to answer questions that are more complicated. Like, 'do I have enough money to go for dinner tonight?' Inge will need to understand what the customer exactly wants to know, but also needs to do a bit of (data) research to come to a reliable answer that naturally fits in the chat conversation."

Or how Amit calls it: 'conversational banking'.
It takes two to tango
But what if Inge, Marie or Lionel, are unable to answer a question?

"Human colleagues keep track of all conversations on a dashboard," explains Tim.

"If there's a problem, they simply take over."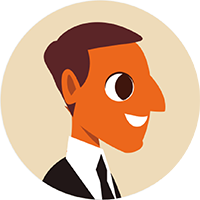 Florine adds: "The bots do the easy stuff. People will always be needed for where they can really add value – empathy and complexity."

"And let's face it," says Tim, "it's not very exciting to answer questions about cards 100 times a day. Thanks to the bots, service agents are freed up to do more interesting stuff."

Wendy Hompes leads the initiative behind Bill, a 'hybrid chatbot' due to be launched globally within ING Wholesale Banking's InsideBusiness Portal for its corporate customers at the end of this year.

"Clients love Bill's short response time, but when he can't answer the question he will ask if they want to be transferred to an ING colleague. It will smoothly go over to live chat, which clients highly appreciate."
Tell me a joke
As the bots learn more, they can even start to pick up on distress signals from customers, or share their joy.

Florine: "We noticed that when Inge started using emojis and introduced humour into a conversation, customers were more likely to forgive her if she misunderstood them. For example, I found out that people asked Inge if they could order pizza with her, and got excited when Inge answered: 'Delivering pizzas is not my strongest skill'."

Petr Netusil, machine learning expert at ING in Belgium spent a pleasant evening researching jokes that Marie could tell to customers when the occasion arose.

"Someday, you won't even realise you're talking to a bot," says Petr.

"It will feel like an actual human. You'll be able to switch between cards, mortgages and insurance all in one conversation."

But in the end, it's about the combination of capabilities offered by AI: speed, scalability (chatbots can talk to thousands of customers at once), data-driven knowledge, and human qualities like empathy and the ability to handle unexpected complexity.

By keeping the two in balance, ING hopes to serve customers in the best possible way – through a bot, or not.