Digital banking made in Germany
08 May 2017
...

min read
Listen
8 May 2017
When Christina Wolfe received a letter from her primary German bank that it would raise its fees for cash withdrawals and other services on 1 March, she started looking for an online bank where she could move part of her money.
After visiting the ING website, she realised she could open an account right away, on the website. After filling in her personal details and accepting the terms and conditions, she immediately received a confirmation that her application was being processed, including the new IBAN. As a third and last step Christina authenticated herself via video-chat – and in just a few minutes she became a new ING-DiBa customer.

"I was totally amazed how fast and easy everything went," said Christina.

This reaction is exactly what ING-DiBa, Germany´s third-largest private bank with eight million individual customers, wants every new customer to experience.

Fully digital
In the latest sign of how ING is accelerating its digital banking strategy to create a faster, more personal customer experience, ING-DiBa has fully digitalised its current account-opening process. Paper and signatures are no longer required. In most cases an application can be instantly checked and executed. All documents related to the account opening are sent digitally to the new customer.

"Our customers can now open a current account even faster and more conveniently," said Katharina Herrmann, Head of Retail ING in Germany.

"With this, we're moving forward with our goal to be the leading digital bank in Germany."

The new account opening is just one milestone in a much bigger programme at ING-DiBa, called Welcome. The goal: further digitalize banking in Germany, further grow the customer base, speed-up innovation and become even more efficient.

Welcome is part of ING's plan to transform itself by uniting foundations, businesses and customer experience. This is necessary to stay a step ahead of our customers' rapidly changing needs and remain among the leaders in our playing field.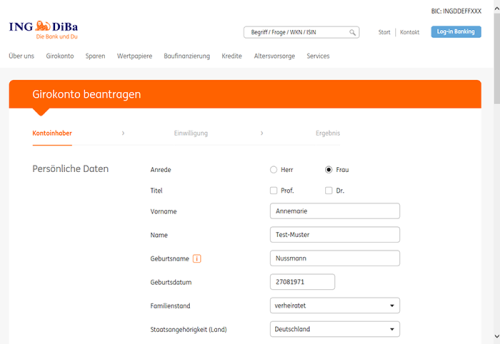 Fast, easy and convenient
Welcome has delivered other successes as well. ING in Germany recently introduced the Digital Income Check, which makes the loan application process much easier, more convenient and also faster. With the new process, the applicant can allow ING to instantly verify the income on his or her reference account – even if this is with another bank. No paper-based salary proof is needed anymore.

Combined with automations in the back-end, the processing time of consumer loans was reduced by two-thirds.
"These digital services enable convenient banking for our customers – anytime, anywhere," said Katharina Herrmann.

With the concept of Unite and the goal to build the digital bank of the future, ING will be able to replicate ING's success in Germany in other countries and create a consistent, unique and differentiating customer experience across ING.