Digital natives at play in Bucharest
20 November 2015
...

min read
Listen
Amsterdam, 20 November 2015
More than 300 young software developers from across the globe have gathered in Bucharest, Romania today, armed with laptops to begin hacking away on the next big idea in digital banking.
24H-CodING 2015 is the third global ING hackathon. Bucharest was chosen as the host city to establish ING as a major IT employer and to support recruitment for Romania's ING Centre of Excellence. Within the next five years, ING Romania will need to attract between 300 and 400 developers.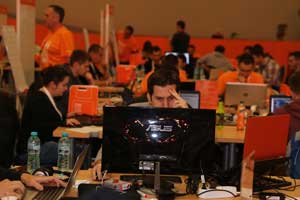 For a full day and night, and maybe a bit more, a giant indoor playground in the heart of Bucharest's IT precinct will be home to hundreds of young 'digital natives' racing against the clock to develop new cutting-edge digital concepts in banking. There are hundreds of high tech workspaces, orange hammocks and more than 100 beds. "This is a great opportunity to profile ING as the next generation digital bank we intend to become – innovative and software-driven," said Michael Busch, Implementation Manager of ING Services. His colleague Marian Ion appeared on one of the country's most popular TV channels, DigiTV, to talk about 24H–CodING 2015.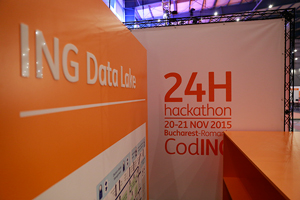 House of talents
A total of 318 developers, grouped in 43 teams, were selected to take on the Hackathon challenge: to build within 24 hours a 'minimum viable product', a working version of a new product with some core features which can be tested on real customers.

The ideas the teams bring to Bucharest vary widely, from a voice-activated banking app for the visually impaired to a payments authentication wristband that reads the electrocardiogram of the owner's heart. An overview of all ideas can be found on the event's website.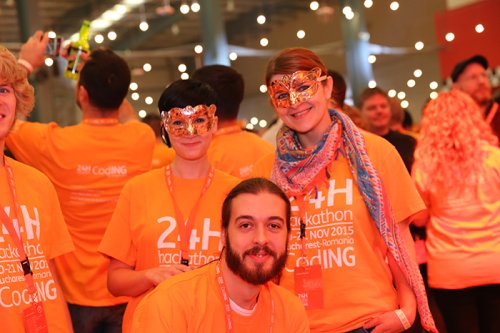 Most participating teams come from Romania. Netherlands is sending six teams, with other entrants coming from Austria, Belgium, Germany, Poland, Singapore, Spain and Turkey (the three winners of the ING Turkey Hackathon which was held from 6-8 November). Almost half of the participants are ING employees, the other half are external developers from Romania.
The jury members include Rob Manders, COO Challengers and Growth Countries at ING, Michal Szczurek CEO ING Bank Romania and Brunon Bartkiewicz, ING Chief Innovation Officer. At the end of the day they will hand out a €15,000 trip to Silicon Valley to the lucky winners of the hackathon.
The word 'hackathon' is a mixture of 'marathon' and 'hack', the latter referring to computer programming.