Double the pride for Daniël
07 August 2017
...

min read
Listen
7 August 2017
Last week, ING's Daniël Edelenbosch-Groot became a father for the first time. As a gay man in the Netherlands, his route to parenthood hasn't been easy. But fresh from the jubilation of having a new baby boy is the news that Daniël, and other LGBT colleagues from around the world, could benefit from ING's Rainbow Families Project that seeks to eliminate any gaps in ING policies.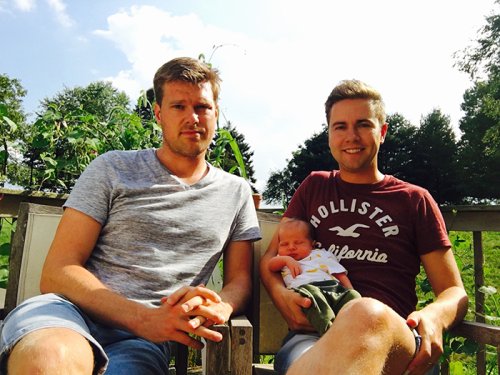 Five years ago, Daniël and husband Giel decided to start a family. Unfortunately, this is easier said than done for a gay couple in the Netherlands. But after carefully looking into all available options, the couple's patience was finally rewarded last week as they became parents of a beautiful little boy, Tobias.

Getting time off to go to the United States where their baby was born from a surrogate mother, proved to be a challenge. About to become a father, there was no clear policy that applied to his situation. After looking into the parental leave options and discussing the situation with HR, he was finally offered eight weeks of paid leave, the same for adoptive parents.

Speaking about the introduction of a Rainbow Families Project that seeks to provide equal access to opportunities and benefits, Daniel said it feels like ING is on a very good track when it comes to improving equality amongst men, women and different family units, including LGBT's.

"I'm lucky to work for a company that is pulling this topic forward," said Daniël.
Baby shower!
Daniel's wish to become a father was well known among colleagues at his ING office in Amsterdam. He had spoken regularly about his rough path to parenthood and appreciated everyone's support of his dream.

''Two days before my leave started, the whole department organised a baby shower for me. This was truly amazing,'' said Daniël.

ING is committed to accelerating the development of diversity and inclusion. It's not just having the coolest boat at Amsterdam's canal pride, but also actions to improve practices and inclusion. In January 2016, it introduced a diversity manifesto, Success through difference, an official bank policy explaining what diversity means at ING.

One of the first to voice concerns about the rights of same-sex families and a proponent of Rainbow Families is employee, Joanna Semeniuk.

"ING has a long history in promoting diversity and a strong presence in many countries. It has every ability to become a frontrunner.

"It's important to identify the challenges rainbow families face at a workplace, and provide equal rights and benefits to all parents," she said.

If one doesn't have to fight for rights and benefits, it is easy to forget how large the scope for Rainbow Families really is. There's the definition of family, pension rights, parental leave, health packages and insurances, international mobility, just to name a few.

ING's global diversity manager Mathieu Verougstraete said it is not only the rights of rainbow families ING is concerned about, but all forms of families.

"Family life is not what it was 20 years ago. Nowadays there is so much more variety and many different kinds of family units.''

He said the first step is to understand the local culture, legal frameworks, beliefs, knowledge and norms across the regions and countries where ING operates.

"Governments have to change the laws, but we can promote the Orange Code and set a good example,'' said Mathieu.

The first countries to undergo an audit of opportunities and benefits will be the Netherlands, Belgium, Italy and the US.
Rainbow flags and Snapchat filters
The announcement of the Rainbow Families project coincided with last week's Amsterdam Pride. Rainbow flags were hung on ING buildings in the Netherlands, the ING logo was displayed in rainbow colours and special Snapchat filters were released that enabled users to transform themselves from an orange lion to a rainbow lion.

Watched by more than 500,000 people, ING's boat came in second place in the canal parade's ranking of the best boats. Colleagues not on board the boat from the Netherlands, Belgium, Germany and UK (including board members Isabel Fernandez and Roland Boekhout) enjoyed the festivities at Amsterdam's Café Molenpad.