European Football Championship is more than just a game
31 May 2016
Would you believe that more than half of people surveyed in Turkey would sacrifice one percent of their annual income if it meant their country would win the European Football Championship? And do you know which country would win if the most expensive team was victorious?
These are just a couple of insights from the ING International Survey on the "Cup-o-nomics" of Euro 2016, where 24 countries compete to be the best at football (soccer) as of 10 June.

ING surveyed about 1,000 people in 13 countries across Europe, and used individual player transfer value estimates as input. The results show how people think about sports and how emotions in particular can affect choices.

"Football can remind us how difficult it can be to make decisions when emotions run high," says Ian Bright, ING senior economist.

"For example, many favour their home team even if they know their chances are small. When managing money, our emotions can get the better of us too. This is why we wrote the report – to demonstrate in a fun way that managing money is more than just doing the maths."

Here are some more interesting insights.
1. Backing the home team
It's no surprise that many people follow their heart rather than their head when choosing who to support. However, when making a friendly bet it may be worth comparing your expectations with actual bookmakers' odds. For instance, bookmakers gave Germany and France a 20% chance of winning and Turkey only 1%. But in this survey, 55% of the Germans, 23% of the French and 27% of the Turkish expect a home-team win.
Does home team passion match reality?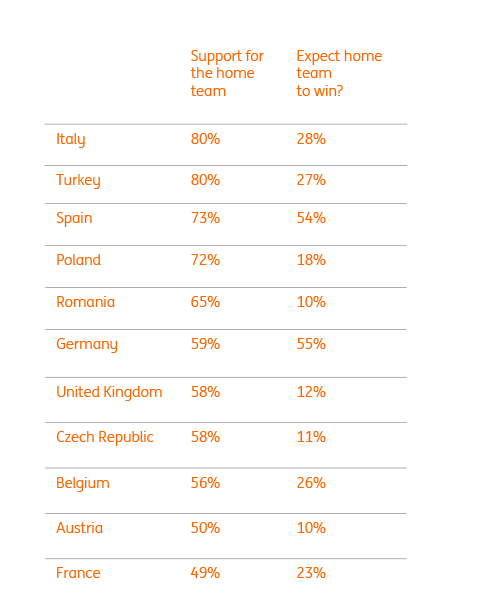 2. What is your team worth?
The Spanish team – which won the last two European championships in 2008 and 2012 – could be worth EUR 658 million when adding up the estimated transfer costs of all 23 players. The most expensive player on the Spanish squad is mid-fielder Sergio Busquets (value EUR 47 million). But Busquets' "value" is less than half of the highest valued Euro 2016 player: Portugal's Cristiano Ronaldo, whose estimated worth is EUR 103 million.

At the other end of the scale, Hungary is the lowest ranked team for value, with the squad worth an estimated EUR 28 million in transfer value.
Can money buy you victory? Top 10 teams at this summer's tournament by value
| | Nation | Total squad value (in EUR million) | Team's most valuable player | Most valuable player's worth (in EUR million) |
| --- | --- | --- | --- | --- |
| 1. | Spain | 658 | Sergio Busquets | 47 |
| 2. | Germany | 566 | Thomas Müller | 71 |
| 3. | France | 493 | Paul Pogba | 61 |
| 4. | Belgium | 452 | Eden Hazard | 66 |
| 5. | England | 447 | Raheem Sterling | 47 |
| 6. | Italy | 314 | Leonardo Bonucci | 28 |
| 7. | Portugal | 305 | Cristiano Ronaldo | 104 |
| 8. | Croatia | 260 | Luka Modric | 47 |
| 9. | Poland | 174 | Robert Lewandowski | 66 |
| 10. | Turkey | 171 | Arda Turan | 33 |
Data sourced from Transfermarkt.com, the football industry standard valuation database, between 07/04/16 and 13/04/16
3. People's financial choices
Based on ING's survey, Turkey appears to be the home of the "super fan". Not only do people in Turkey say they would pay for a last-minute ticket to watch their team in the final, but they appear keener to sacrifice a portion of their earnings or give up their mobile phone for a month to secure a win.

Except for Turkey and Poland, in all other countries most people say they wouldn't pay anything to see their team play if they made it to the final.
Would you be prepared to give up your mobile phone for a month for the team you support most to win Euro 2016?