European sharing economy to grow by a third in the next 12 months
01 July 2015
...

min read
Amsterdam, 1 July 2015

Rapid growth tipped for the sharing economy in Europe, driven by disruptive brands like Airbnb
To date, cars have been the most borrowed item, but sharing of holiday accommodation is predicted to overtake this
Sharers make an average of €2,500 annually to supplement their incomes
The sharing economy pioneered by companies like Airbnb and BlaBlaCar is taking hold in Europe, with more than 150 million consumers expected to pool property or possessions over the next year.

An international study of almost 15,000 consumers across 15 countries reveals the profound effect that sharing technologies could have on economies worldwide, with participation predicted to rise in the next 12 months.
European countries are leading the way in the sharing economy
Nearly one in 10 (9%) in the US are already participating in the sharing economy. Europe is playing catch up with 5% participation but considerable growth is expected in the next year, with nearly a third (32%) of consumers saying that they will take part.

The ING International Special Report on the Sharing Economy defines the sharing economy as the utilisation of goods that would otherwise be idle or unused with payment being made in return. This exchange is driven and supported by digital technology as explained in the independent review 'Unlocking the sharing economy (PDF, 271 KB)' for the UK government. The ING study reveals that certain European countries are leading the way in the sharing economy, with participation highest in Turkey (9%), Spain (6%) and the UK (5%), but this suggests that there is considerable scope for growth across the continent as familiarity spreads and more people turn their knowledge into action.

Cars are the most frequently shared items (9%) but holiday accommodation is expected to take the lead in the next year, with two in five (42%) saying that they will consider paying someone to borrow their holiday home. There is less willingness to share such items as clothing (4%), electrical items (4%) and household appliances (4%), with consumers preferring to have sole ownership of these items.
Many sharers are going all Airbnb
Airbnb has made headlines – positive and negative – around the world as a disruptive force to the traditional holiday accommodation model. It is just one of many room-sharing arrangements, which might explain why holiday accommodation is the possession owners in Europe are most likely to have shared in the last 12 months. In addition, almost half – or 49% – of holiday accommodation owners would consider sharing for money in the next 12 months.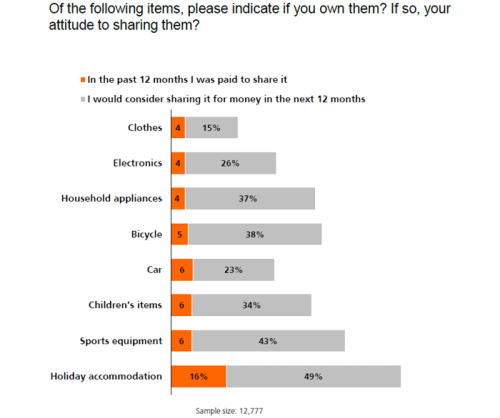 Cars, children's items (such as toys) and sports equipment (such as skis) were shared by 6% of owners in the last 12 months. Clothes are the possession owners are least likely to consider sharing in the next 12 months.
Saving money and the environment holds appeal for sharers
The chance to save money strongly influences participation in the sharing economy across Europe, the United States and Australia. Of four positive statements about the sharing economy, "it saves money" has the largest number of people saying it is an influential factor in all 15 countries surveyed.

In Turkey it is joint top. Across all countries, the view that it is good for the environment is influential, an aspect that is explored further ING's circular economy report released by Economics Department Netherlands in June 2015.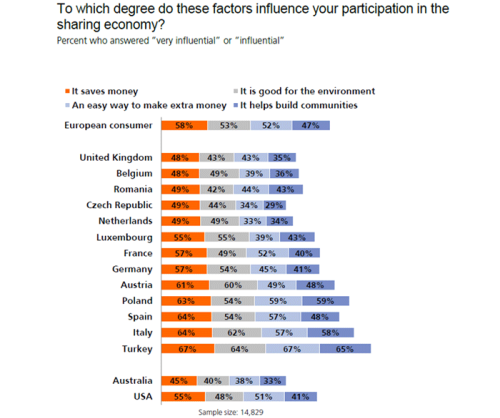 Many respondents also see sharing as "an easy way to make extra money". Helping build communities – such as broadening the relationship between lenders and borrowers or through the establishment of sharing community shops – holds less appeal in most countries, but ranks highly in Turkey, Poland and Italy. Turkey, Poland and Italy have a large proportion of people who believe these positive factors are influential, as signalled by the longer length of their bars on the chart.

These view are held much more strongly among sharers than non-sharers. The view that sharing builds communities is particularly influential for sharers, with 73% saying it is important compared with 39% of non-sharers. Women are more motivated by the idea that sharing is good for the environment, with 57% saying it is an important factor influencing participation compared with 50% of men. Likewise, saving money is an important sharing economy factor for 61% of women and 56% of men
Sharers benefit financially
Consumers who have already taken to sharing items are benefitting financially, with average earnings of €2,500, suggesting that for some this could be an important supplementary income stream in the future. However, the vast majority of participants across Europe (74%) made €1,000 or less in the past year. Those participating in the sharing economy are most commonly well-educated consumers, aged under 35.
Not everyone yet convinced
ING Senior Economist, Ian Bright commented: "The growth of the sharing economy has been accelerated by new mobile and internet technologies that makes it easier and quicker to share. This is part of a broad shift in the way assets are utilised and entails a change in our conception of 'ownership', though clearly not everyone is yet convinced about moving to a society that takes a 'reduce, reuse and recycle' mentality."
Full report
The special report ING International Special Report on the Sharing Economy can be viewed on top of this article, is available on slideshare for embedding and can also be downloaded as a pdf.