Bank of Beijing and ING sign MoUs
Bank of Beijing and ING sign MoUs
On 8 September 2011, in the presence of the Mayor of Beijing, Mr. Guo Jinlong, Bank of Beijing and ING signed two Memorandums of Understanding. This underlines ING's commitment to the partnership with Bank of Beijing and to its operations in China.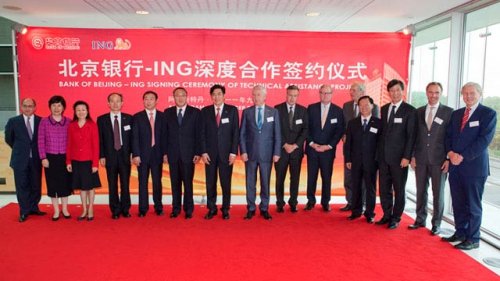 Support
Chairman Yan of Bank of Beijing and Jan Hommen, Chairman of ING, signed a Memorandum of Understanding relating to ING Bank's support to Bank of Beijing in the field of Operational Risk Technical Assistance.

By signing this memorandum, ING Bank expresses its willingness to provide related support services to Bank of Beijing to improve its operational risk management mechanism, in order to raise the level of risk management and investment value of Bank of Beijing.

In addition to this, another Memorandum of Understanding was signed between Bank of Beijing and ING Insurance, relating to the support of ING-BoB Life Insurance regarding the Strengthening of its Comprehensive Risk Management Framework. ING-BoB Life Insurance is a joint venture in which Bank of Beijing and ING each own a 50% interest. This memorandum was signed by Chief Supervisor Shi of Bank of Beijing and Lard Friese, member of the Management Board Insurance of ING, whose responsibilities include ING's insurance activities in Asia/Pacific.

The signing ceremony was also attended by His Excellency Ambassador Zhang Jun, the ambassador of the People's Republic of China in the Netherlands, as well as by some other distinguished guests.
Strategic partnership
During his welcoming speech, Mr. Hommen reflected briefly on the strategic partnership with the Bank of Beijing, which was established in 2005, following ING's shareholding in the Bank, currently a 16.07% stake.

Part of this strategic partnership was to support the Bank of Beijing to further upgrade and expand its operations in areas like retail banking, risk management, staff training and corporate governance.

This partnership was further intensified by the joint venture entered into in 2010 by Bank of Beijing and ING's insurance company. Hommen: "We are very proud that Bank of Beijing was one of the first banks to receive approval from the Chinese regulators to invest in insurance companies. As Bank of Beijing has always been the main distributor of ING insurance products in China, we believe that the ING-BoB Life joint venture with the Bank of Beijing as JV partner will bring us to new heights."
Strengthening ties
"China and the Netherlands have a long history of trade and partnerships since the 17th century," states Jan Hommen. "Although," he continues, "compared to China, the Netherlands is a very small country; we do seem to have the same mentality. A new saying verifies this: 'Dutch people are the Chinese in Europe and Chinese people are the Dutch in Asia: both are doing good in business, and doing good in business with each other.'"

"China has become an influential part of the world's economic order and plays a key role in the global economy. China is a very important country to the Netherlands and we are committed to strengthening the ties", Hommen concluded.