'There still is a lot of room for change in the banking sector'
22 April 2014
...

min read
Listen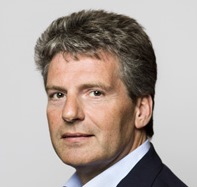 One of the key points of ING Bank's Think Forward strategy is an improved focus on operational excellence. In this context, ING Bank is appointing a Chief Operations Officer, who will be responsible for Operations & IT, change management and procurement. Roel Louwhoff (48) will start in this new role as of 1 May 2014. Below, he answers four questions about the banking sector, his experience and the London 2012 Olympics.
You previously worked at telecoms group BT as CEO of their Operate unit. What attracted you about joining ING?
Throughout my career, I have chosen different industries to work in. I don't come from the banking world, but in my previous roles – as a consultant, in contact centres, in business process outsourcing and in the telecoms sector – I always dealt with banks as major clients. Switching to the banking world is a big change all the same, but it is a deliberate choice.
I think there is still a lot of room for change in the banking sector, and the coming period will be crucial in that. It's nice to be able to experience this shift from the inside, as I was in my telecom period, and hopefully later look back on a wonderful job done as a team. To me, ING has a unique starting position, thanks to its international orientation and drive to take significant steps.
What specific experience do you bring from the telecom world that can benefit ING?
Without pretending to know the bank or the banking sector through and through, I think, in general, that telecom companies are ahead in terms of customer service, online, mobile, data and associated issues such as uptime and recovery. Also, much has been done in terms of efficiency and effectiveness through process thinking from the customer's perspective. I realise of course that not all of this knowledge will be as relevant at ING, but there are certainly parallels.
What's your view on the recent past and future of the financial sector?
The sector is increasingly under pressure. Public opinion regarding banks and bankers has changed drastically in the past few years – and not in favour of the sector or the people working in it. The crisis and the more stringent rules and regulations have demanded a lot from customers, employees, processes and the associated systems support.

In short, there is a need and an opportunity to contribute in all areas, whether it is in the field of culture, people, structure, processes or technical matters. And this change needs to happen in a coherent and consistent manner, with defined objectives, because competitors are not standing still. So when you talk about the future, one thing is certain: it will be even more dynamic and thus even better to be involved in.
Finally, you had the overall responsibility for all of BT's activities around the London Olympics in 2012, which was seen as a great success. What are the main lessons you learned that ING's customers can benefit from?
As the communications provider for the London 2012 Olympics, BT took care of all aspects involving TV, fixed line, internet, mobile, social media, hosting the London2012 website and data security.

Looking back on this global project and looking ahead to ING, I have learned a lot about how to execute such mega projects on time and within budget, and how programme and project management, including identifying and persevering towards milestones, determines your success. And I've learned a lot about how to make social media work for you – after just a few days, the press were referring to 2012 as the first 'Socialympics.'