Innovation Bootcamp: More than 1800 ideas from ING employees
25 June 2015
...

min read
On 25 June 400 ING employees witnessed the final stage of Innovation Bootcamp, a four month internal program in search of ideas that help ING deliver its promise to empower customers.
Eight finalist international employee teams had just 15 minutes each to deliver their elevator pitch to a jury.

Innovation Bootcamp challenges ING employees worldwide to come up with smart ideas and then turn them into reality. In its second year, the current program started in January, when employees from across the ING world submitted 1806 ideas in response to five strategic challenges.
The 100 best ideas entered Innovation Bootcamp and were developed by international teams of employees, supported by innovation mentors.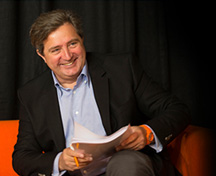 Today the best eight pitched before a jury, in front of an all- employee audience. ING employees from 10 countries also shared the excitement of the event in a live stream webcast and many other ING people could also watch it via a webcast stream.
Awards for the top three ideas and a People's Choice Award were handed out by CEO Ralph Hamers and Chief Innovation Officer Brunon Bartkiewicz.
Ideas ranged from a fully-integrated, flexible and secure one-stop-shop SME toolkit that enables entrepreneurs to get a business up and running quickly to a mobile app that empowers kids to manage their pocket money well.
The first edition of Innovation Bootcamp in 2014 generated 774 ideas, of which eight received support to be launched commercially.
The winner of last year's Innovation Bootcamp, The Orange Assistant, is currently undergoing testing in Turkey. The Orange Assistant enables customers to automate their day-to-day banking by allowing them to set rules for certain banking transactions to occur. For example, a customer could set a rule for their transaction account which stipulates that any amount above a certain balance is automatically transferred to their savings account.
Another successful idea at the 2014 Innovation Bootcamp was Direct Lease, an online leasing platform that will help small and medium-sized enterprises at every step of the leasing cycle. A first version of Direct Lease was tested with clients in the first quarter and it will be launched this year.