Let's partner on climate action. Now! #ClimateCEOs
17 April 2015
...

min read
17 April 2015

"We call upon governments to take bold action at the Paris climate conference (COP 21) in December 2015 to secure a more prosperous world for all of us. We are already taking action, and we stand ready to work together with the international community to help deliver practical climate solutions."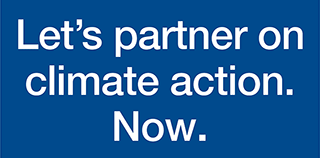 This call for action on climate change signed by more than 40 CEO's, including ING's Ralph Hamers, from companies and 20 economic sectors across the globe is published today in the FT and Medium.com/@ClimateCEOs
Change the energy mix as demand is growing
Of course action speaks louder than words and we cannot just sit and wait to see what happens. On a global scale the demand for energy is still rising. As a global financial institution we support the real economy and we will continue accommodating this demand where necessary and in accordance with our Environmental & Social Risk policies, but we strive to change the energy mix in our portfolio at a faster pace than the market dictates at this moment.
Finance sustainable transitions
How? It starts with limiting our direct environmental footprint. We have set a target to reduce our CO2 emissions by 20% in 2020. Since 2007 we have offset remaining carbon emissions to be carbon neutral. However, as a bank, the indirect impact on climate change and the environment we have through our financing activities, is much larger than our direct impact. Therefore, we are proactively identifying and seizing opportunities to finance sustainable projects and companies that are environmental outperformers compared to peers in their sector.

Currently, Sustainable Transitions Financed" (STF) represents the volume of business that ING conducts with clients and projects that provide sustainable solutions and outperform their sector on environmental or social performance. We have dedicated teams across all our lending businesses seeking financing opportunities that have a significant contribution to reduce CO2 emissions, waste stream and water use.

By doing so, in due course our portfolio will become more and more sustainable. In 2014 total STF amounted to EUR 19.5 billion, covering such business areas as energy, real estate and transport, while theshare of renewables among the electricity-generating projects in the Structured Finance Power portfolio continued a trend of gradual increase, from 23% in 2009 to 43% in 2014. We have a sound Environmental and Social Risk Framework in place to mitigate impact on society and the environment. In 2014 we have issued a coal policy that outlines the changes we want to achieve. We did not limit this policy to project finance only, but incorporated other types of finance as well and tried to balance between climate responsibility and the responsibility we have as a financier of the real economy.
Committed
Being sustainable is not just about reducing our own footprint, it is in all the choices we make – as a lender, as an investor and through the services we offer our customers. We are committed to helping our clients in their strategic transition towards a reduced environmental footprint. Through the Climate Change CEO statement, we urge governments to lead in accelerating the transition toward a low carbon economy making an ambitious climate deal in Paris and work together with the private sector. Together we're stronger. Let's partner on climate change. Now.
For more information on ING's efforts to facilitate the transition to a fairer, greener economy