Five things about palm oil
05 July 2019
...

min read
ING was notified today that NGOs have made specific requests to the Dutch National Contact Point regarding ING and palm oil. What's our position on palm oil? Here's five things to know about ING and palm oil.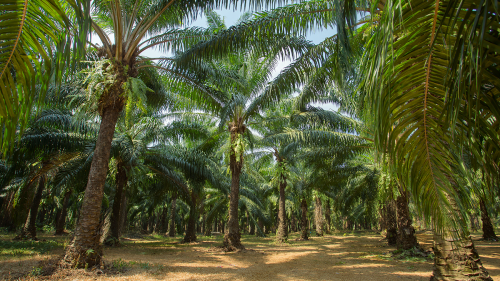 1. What's palm oil?
Palm oil is a vegetable oil that is made from the fruit of oil palm trees. It's edible and used as an ingredient in tons of products, from food items like crisps and biscuits to products like toothpaste and soap. In fact, it's in close to 50% of packaged products in the supermarket, according to the World Wildlife Fund (WWF).
2. What is the problem with palm oil?
We've all probably seen the negative reports about palm oil – how it's bad for animals and the environment and relates to social concerns. Indeed, because it's used so much, there are a large number of palm oil crops around the world and often in emerging economies, which sometimes raises environmental and social concerns. These include deforestation, loss of biodiversity and wildlife, unethical labour practices and the displacement of local communities.
3. Why not use another kind of oil?
The Word Wildlife Fund says it best: "Palm oil is an incredibly efficient crop, producing more oil per land area than any other equivalent vegetable oil crop. Globally, palm oil supplies 35% of the world's vegetable oil demand on just 10% of the land.

"To get the same amount of alternative oils like soybean or coconut oil you would need anything between 4 and 10 times more land, which would just shift the problem to other parts of the world and threaten other habitats and species.

"Furthermore, palm oil is an important crop for the GDP of emerging economies and there are millions of smallholder farmers who depend on producing palm oil for their livelihood. Boycotting palm oil is not always the answer, but demanding more action to tackle the issues and go further and faster, is."
4. Does ING finance palm oil?
We don't finance palm oil plantations. We do provide general finance or trade finance to a select group of clients with a diversified agribusiness portfolio, which also includes palm oil. These companies undergo enhanced environmental and social risk due diligence. In total we finance less than ten clients that earn 10% or more from palm-oil-plantation-related activities.

We have no intention to expand our client base with companies that earn more than 10% related to palm oil. As of September 2018, ING does not engage with new clients in palm oil plantation owning, producing or trading. We prefer to focus on engaging with existing clients to make improvements to their businesses.
5. How do we make sure our existing clients are farming palm oil sustainably?
We've been a member of the not-for-profit Roundtable on Sustainable Palm Oil (RSPO) since August 2015. We continuously improve our understanding of the sector and we support clients across the value chain in addressing the challenges and opportunities in the palm oil industry.

As with our overall approach to sustainability, we focus on engaging with existing clients to make improvements in sustainability and their businesses. After all, these are the bigger players in the market and therefore those with the biggest potential to make a difference.

We expect our clients to be RSPO members or be in the process of becoming a member, as well as to have committed to having their operations be 100% RSPO certified within an acceptable time frame.

More than 85% of our clients currently have a 'No Deforestation, No Peat, No Exploitations' policy in place. All of them have committed to 100% RSPO certification by 2030, with some of them committing as early as 2020.

As the WWF says, divestment is not the answer – demanding more action to tackle the issues and go further, faster is.

For more information, see our stance on palm oil.
Read more here about the WWF and palm oil.
Related stories