Getting better never stops
25 September 2023
...

min read
It goes without saying that every company needs happy, loyal customers. But that can't happen without dedicated, engaged employees. One of the ways that ING is continually improving its customer experience (CX) is by hosting an annual event involving thousands of employees all over the world.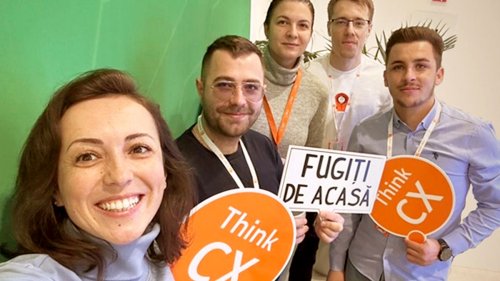 It's what ING calls Global CX Day, a day where employees from more than a dozen countries, put their collective heads together to come up with ideas, big or small, to create a superior customer experience.

Each year, recognition is given to the best ideas. One of last year's winners was a small group of Romanian employees who came up the idea to launch a new functionality on their app where customers could see, for the first time, which websites and apps their payment card details had been saved.

The merchants of these websites, together with payments schemes and issuing banks, convert customer payment details into what are called tokens. This is done for security reasons. In Romania, ING customers have over two million tokens registered with various merchants.

This functionality is particularly handy for customers who don't always remember which sites they have given their payment details to. It allows them to keep an overview and if they no longer want to have their card data registered with a particular merchant, they can remove it directly from their banking app.
Aha moment!
Nicoleta Mocanu, one of the members of the team behind the idea said the idea of adding this functionality had been brewing for some time.

"In 2022, the number of online merchants using Visa's system of tokenisation reached over 200,000 and this was our 'aha moment'.

"We said to ourselves: how great would it be to make this visible for our customers? We know the world is becoming increasingly digitalised and this would allow them to regain control of their data.

"We then heard that Global CX Day was coming up and we thought that's our chance to take this idea to the next level!"

Nicoleta said even though her team developed the solution on the day, the hard work came later.

"The struggle came after Global CX Day when all the internal procedures (data protection and legal requirements, etc.) had to be met before we launched. But in less than six months, we overcome all the impediments and made a successful launch, the first of its type in Romania."

For Nicoleta and team while winning CX Day was great, especially the recognition from colleagues globally, the stream of positive comments from customers that have come since the launch in May has been most satisfying.

"We've received so many! Comments like: 'It's great to see where I saved my cards all this time…!', 'I can see my Netflix subscription here. This is so cool…' and 'I saw in the list three merchants I didn't even know i made transactions with!'"

"These are the kind of comments that make it all worthwhile," she said.
Related stories