How ING's circular economy commitment comes to life through M&A
01 November 2016
...

min read
1 November 2016
ING was advisor and sole underwriter in a merger to form one of Europe's leading circular economy companies.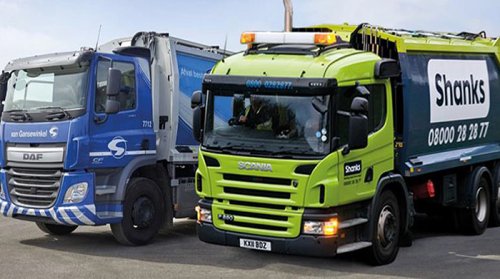 Europe's gaining a leading player in recycling thanks to the merger of international waste-to-product business Shanks Group plc and leading Dutch recycler Van Gansewinkel Groep. ING acted as financial and debt advisor and sole underwriter, evidence of our commitment to stimulate the circular economy.
"ING very rarely underwrites 100% of a transaction like this," said Floris Schorer of the Capital Structuring & Advisory team that acted for Shanks.
"Doing so makes a very strong statement about what we believe in."
In ING's view, the circular economy is the ultimate answer to solving the problem of the depletion and scarcity of resources. "In a circular economy, products, their components and materials are recycled and reused as efficiently as possible so their value is maintained, or even enhanced. This doesn't only reduce the raw materials needed for products, it also saves money," said Sustainable Finance Director Armand Ferreira.
UK-based Shanks is particularly strong in recycling hazardous and industrial waste. Van Gansewinkel's expertise lies in recycling glass and electronics. Together they cover almost every aspect of waste collection and recycling in the Benelux, from household and garden refuse to industrial and construction waste.
"Their combined strengths give them a strong footprint in a very competitive industry," said Jonathan Saini of the Corporate Finance advisory team.
"The businesses complement each other, which gives the transaction a strong industrial logic."
Last minute
ING has supported Shanks since 2009 with M&A advisory, financing, leasing, payments & cash management, trade financing and working capital. We also have a strong relationship with Van Gansewinkel, giving us a deep understanding of both companies.
The transaction itself touches on many areas of Wholesale Banking's expertise: M&A advisory, debt advisory, financing, sector knowledge, geographic reach and long-standing client relationships.
Our local insights into the British and Dutch markets were vital to the mandate. ING even seconded a member of the London team to work at Shanks on a daily basis during the transaction.
The deal, which had been years in the making, was almost derailed at the last minute by the Brexit referendum.
"Luckily both sides still saw the merit in continuing," said Ingrid van der Veeken of the Syndicated Finance team.
Anglo-Dutch marriage
Although Shanks is listed in London, the Netherlands is its biggest market. The combined entity too will earn around 80% of its revenue on the continent. It remains to be seen what the impact of Brexit will be on this Anglo-Dutch marriage.
Should the company decide to switch its functional currency from the pound to the euro, or relist in Amsterdam, ING is well-positioned to help it in its next phase.
"We are discussing various options with them. It's part of our longer term engagement," said Emiel Enneman of ING Corporate Clients in Amsterdam.
In addition to ING's fully underwritten loan, Shanks will also raise financing for the transaction with a rights issue, place shares on the London Stock Exchange and give the Van Gansewinkel shareholders shares in the new entity.
The company's combined geographical footprint will cover the Netherlands, Belgium, Britain, Hungary, Germany, Portugal, France and Canada. The deal is pending anti-trust clearance in Belgium and the Netherlands and is expected to close around year-end.