ING joins leading circular economy platform Ellen MacArthur Foundation as CE100 member
02 June 2016
...

min read
2 June 2016
ING is taking the next step in our commitment to stimulate the circular economy by joining the Ellen MacArthur Foundation as an official Circular Economy 100 (CE100) corporate member.
The Ellen MacArthur Foundation is the world's leading platform on the subject, aiming to accelerate the transition to a circular economy and build a framework for an economy that's restorative and regenerative by design.

As a CE100 member, ING was asked to join a maximum of 100 global frontrunner corporations collaborating to develop circular economy opportunities. Through the Ellen MacArthur Foundation, ING aims to grow its knowledge and network on this topic, collaborating with experts, partners and other CE100 members to promote the circular economy and unlock business opportunities related to it.
Source: Ellen MacArthur Foundation.
"From the innovation revolution to the effects of climate change, society faces many challenges, and it's clear that traditional business models must evolve. We believe that sustainable business is better business, and the circular economy plays a vital role in that," said ING CEO Ralph Hamers.

"We're ready to make a bigger impact in a way that fits with our organisation and our footprint by further building on our role of raising awareness and sharing knowledge with our clients. By connecting with Ellen MacArthur Foundation partners, we can share and further broaden our knowledge to drive the development of new business models."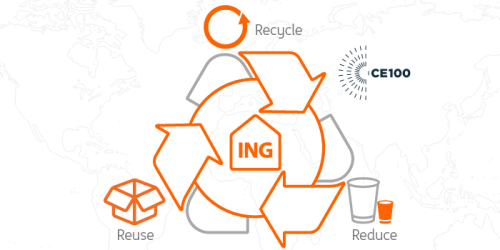 In ING's view, the circular economy is the ultimate answer to solving the problem of the depletion and economic scarcity of resources. In a circular economy, products and their components and materials are recycled as efficiently as possible so their value is maintained, or even enhanced. This doesn't only reduce the raw materials needed for products, it also saves money.
ING's report "Rethinking finance in a circular economy" has been widely read and recognised as a key document on how the financial industry can support the transition to a circular economy.
An updated report, "From assets to access", has just been released and takes a closer look at the steps the capital goods industry can take to move closer to a circular economy.

The economic reports are just one aspect of our commitment to circular economy. In the Netherlands, we've joined (text only in Dutch) with Rabobank, ABN AMRO and MVO Nederland (CSR Netherlands) to combine insights into circular business models with knowledge of financial products and risk management to accelerate the transition to a circular economy.
Last March, we helped bring together CFOs, group treasurers and other financial decision makers in London to discuss the the implications of moving towards a circular business model and the role that finance will play in society's transition to a circular economy.

We also seek out circular financing opportunities, having invested in circular companies such as Van Scherpenzeel and Avantium. We see that supporting the circular economy financially requires different products and services and have set up a virtual team with expertise from all banking areas, including Risk, to address circular finance requests.
ING is looking forward to seizing the opportunities that the membership with the Ellen MacArthur Foundation brings, and truly making a difference in accelerating the transition to a circular economy.