How fintech can help create 1 bln new jobs in Asia and Africa
27 October 2016
...

min read
Listen
27 October 2016
Fintech is helping small companies in the poorest countries grow and create jobs.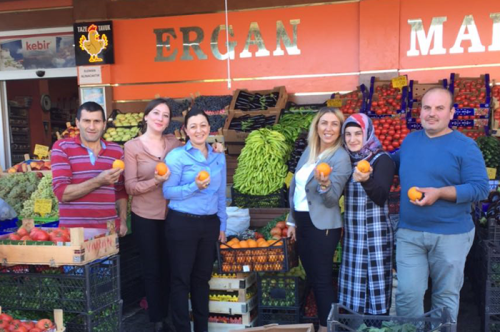 In a quiet neighborhood in the Turkish city of Trabzon, local residents buy most of their daily necessities at Ergan's, a family-run supermarket established in 1987 that employs six people. But for a long time, there was one item they couldn't get: meat.
That changed when the owner, Mehmet Turan Ergan, learned he could apply for a loan from ING using his smartphone. He wanted to create a new butcher section and needed 30,000 Turkish lira (around EUR 9,000) to buy a glass counter to display the different meat cuts, an extra refrigerator, and a machine to make ground beef.
Within minutes of sending an SMS with his tax number, he received a positive answer. Today his customers have more choice. But more importantly, he created a new job.
Multiplying that kind of job creation using the latest financial technology, or fintech, has great potential to reduce extreme poverty in the developing world, according to ING's latest 'A Billion to Gain' report. The report comes out every two years and examines the different ways that microfinance – part of ING impact finance – can improve people's lives.
Extreme poverty, which the World Bank defines as living on less than USD 1.90 a day, has dropped significantly in the last two decades. But there is still much more to do. ING's 2016 report demonstrates how technology is already giving companies easier access to credit and why companies with fewer than 10 employees stand to create the most jobs.
"For a long time, advocates of microfinance believed and hoped that all poor people could start their own microbusiness to climb out of poverty, which is essentially forced entrepreneurship and very difficult to be successful," explains Gerben Hieminga, ING economist and author of the report. "We're saying it's more effective to focus on helping smaller businesses grow and thrive to the stage where they hire people."
Helping the missing middle
To finance the growth of 1 billion new jobs for the poorest in Asia and Africa, ING estimates that the number of micro, small and medium-sized companies (MSME) must grow by a third (from currently 400 million enterprises to 530 million) and the loan portfolio to this segment by 80% (around USD 5.5 trillion). Traditional banking won't be able to close this huge credit gap because it's too costly to maintain a wide branch network, especially in rural areas.
"SMEs are too large for microfinance and too small for traditional banking," says Hieminga. "They are the missing middle."
The solution lies with fintech. In the case of Ergan Supermarket, it was ING's pre-approved loan engine, whose algorithms automatically triggered a query to the Turkish central bank and the Turkish credit scoring agency when Mr. Ergan's SMS was received. When a positive answer was returned, the engine applied that information to approve different types of loans Mr. Ergan was eligible for, as well as specific credit limits for each type.
In the past, a small business owner like Ergan would have had to visit a local branch to apply for a loan – if a branch existed at all.
"A loan approved (instantly) lowers the threshold for business owners of micro enterprises to visit a bank branch," observes Yücel Ölcer, SME Banking and Payments Systems Director at ING Bank Turkey.
Over the last three years, more than 42,000 clients in Turkey that previously had no formal relationship with a bank received an 'instant' loan from ING Bank Turkey.
Iris scans and fingerprints
Another area where fintech is helping to increase financial inclusion is in personal identification – a condition for banks to lend in the first place. Yet in many countries, personal identification is not possible due to missing and/or unreliable birth records and the fact that millions of people share the same last name. India is now in the midst of a vast project to identify its entire population of 1.2 billion by using photos, iris scans and fingerprints.
Fintech has also spawned new credit scoring methods to make up for the lack of financial data on SMEs in developing countries. The new methods use questionnaires, social media behavior and mobile phone data to draw conclusions about a person's credit risk.
You'll find these and many other examples in the full 'A Billion To Gain 2016' report, as well as in the different presentations that were given during a recent conference to present the report's findings.
ING's impact finance efforts are part of the bank's strategy to empower its customers to stay a step ahead in life and business, and contribute to a healthy economy and social progress. ING has promoted impact finance for more than a decade by providing loans as well as technical and financial expertise. Visit ing.com/impactfinance for more information.