I am, because we are

Bongani Shongwe is a data engineer in Wholesale Banking Advanced Analytics. His awareness of his African roots was triggered by salsa dancing. Now, he's an active member of BEING, ING's employee network for colleagues of African and Caribbean heritage.
What I miss most about South Africa is that feeling of community
I grew up in a township in South Africa. This is where black people were forced to live under the apartheid regime (a system of institutionalised racial segregation – Ed.). I was born in 1988, three years before apartheid formally ended. But it's not like there was a magic button and suddenly everything was different. There were still a lot of places that were highly segregated.

I remember once, when I was a child, I went with my mum to a mall and I needed to go to the bathroom. It wasn't possible – there were no toilets for black people.

Education in the townships was not good; it mainly prepared us for low-skilled jobs. So my parents decided to send me to a semi-private 'white' school in Johannesburg. A minibus would collect all the township kids who were enrolled at the school, drive us there, and bring us back home in the afternoon. It picked me up at 6 am each day.

Our history lessons were about the Europeans who colonised South Africa. But we didn't learn at what cost or how many African lives were lost. We were never taught African history, even though the majority of South Africans are black.
Questioning my intelligence
I also experienced racism at school. Once, when I scored one of the highest marks for a test, one of my classmates was surprised that "someone with my background" could do so well.

I wasn't always sure who to talk to about these experiences. I didn't want to bother my parents as they were already working hard enough to provide me with a good education. After finishing school, I received a scholarship to go to university.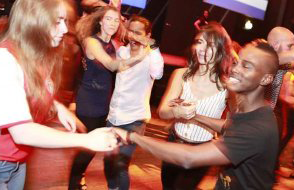 Many years later, in 2015, my awareness of my cultural heritage was triggered when I was introduced to salsa dance. We tend to associate salsa with Latin America, but its roots are African. It was brought over by African slaves when Latin America was colonised. The only way for them to keep their history alive was through music, singing and dancing. Many of the salsa rhythms come from Africa. It made me realise there's a richness to African history I'd never been taught.
No longer the majority
When I moved to the Netherlands in 2018 to start a job with ING, I was no longer in a country where I was part of the majority. I noticed there are sometimes cultural misunderstandings about black people, and then I feel you have to step up and correct them. For example, I believe a lot of people don't understand how we experience economic racism. Black workers are more likely to be unemployed and to earn less than white colleagues. I feel we typically have to fight harder for recognition in the workplace.

Raising awareness of the black experience is one of the reasons I joined our employee community BEING (Black Employee Inclusion Group), which was formed last year. BEING wants to give a voice and visibility to professionals of African and Caribbean origin, create awareness about black people in general, about our heritage, and connect people in a fun way. We also focus on the professional development of black employees.
'I am, because we are'
What I miss most about South Africa is the feeling of community. We have a word for it: ubuntu. It means 'I am, because we are'. There is always someone there to help you, to elevate each other, improve each other, to take care of each other. Ubuntu is about reaching out, pitching in. Most South Africans will understand the term ubuntu. Here in Europe, the mentality is different. You have to take care of yourself. Initially, that was kind of a culture shock for me.

At ING I get a sense of that community feeling through our Orange Code. We help each other and lift each other up when we need it. It's a bit of ubuntu, if you look it that way. Maybe that's why I work here.

With Bongani's story we celebrate the cultural richness of ING's diverse workforce, in support of the United Nations' World Day for Cultural Diversity for Dialogue and Development.
Free to be yourself
This article is part of a series in which ING colleagues tell their personal stories. At ING we celebrate inclusion and value a diverse workforce, as we know people are most motivated when they are free to be their whole selves.