ING again named world leader in corporate action on climate change
04 November 2015
...

min read
4 November 2015

ING is ranked in the top 3% of more than 2,000 companies when it comes to actions and strategies to combat climate change, receiving the highest possible score, according to CDP, a leading not-for-profit organisation that uses measurement and disclosure to improve the way companies and governments manage environmental risk.
We scored 100A this year on CDP's 2015 Climate A-list, a further improvement from our score of 97A last year. The 100 is for disclosure, about how transparent we are regarding our performance, actions and policies related to climate change; and the A is for our performance.
We're one of only 64 companies to achieve this high score in 2015. Our high score also earned us a place in the Benelux Climate Disclosure Leadership Index (CDLI), CDP also announced today.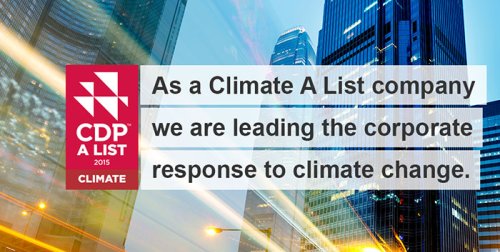 The CDP report was produced at the request of 822 investors who represent more than a third of the world's invested capital. It reveals the extent to which the world's largest listed companies have shifted their strategies over the last five years to become part of the solution to the climate challenge.
"As a financial institution, our role is to enable the transition to a more sustainable economy by financing change, sharing knowledge and using our influence," said Léon Wijnands, ING's global head of Sustainability.
"I'm proud our efforts have been recognised in this way. I see it as confirmation of our sustainability direction – the way we've set targets to reduce our direct environmental footprint, strengthened our environmental and social risk framework, and the way we've grown the amount of sustainable transitions financed. It's also an encouragement to keep going, as we know there's always more left to do."
CDP works with investors to collect information from companies on their greenhouse gas emissions and assessment of climate change and water risk and opportunity.
Paul Dickinson, CDP's executive chairman and co-founder, said: "The influence of the corporation is mighty. We congratulate the A List companies that are illuminating the path to a low carbon future through their climate leadership. The momentum of business action on climate change suggests we are reaching a tipping point, where companies are poised to achieve their full potential. They need ambitious policy at both a national and international level that will support them in this regard and will catalyse participation from industry at scale."