ING and Payvision sound opening gong
08 February 2018
...

min read
Listen
8 February 2018
ING and Payvision opened trading today on the Amsterdam Stock Exchange to mark their recently announced strategic partnership.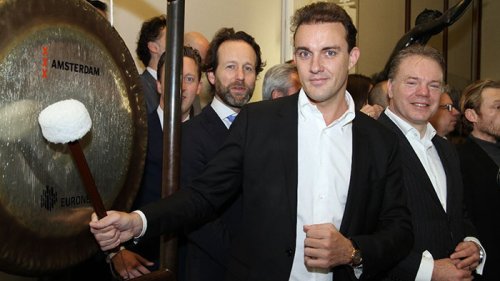 "I'm happy and honored to have had the opportunity to open the trading day at the Amsterdam Stock Exchange with our great partner ING," said Payvision founder and CEO Rudolf Booker.

"This symbolizes the market's acknowledgement of our valuable partnership and marks the beginning of a wonderful journey into enhanced business growth and innovation in payments."

Mark Buitenhek, ING's global head of Transaction Services, said the strategic partnership is "a milestone that will bring us closer to becoming the platform of choice for our clients".

Last month, ING announced its acquisition of a 75 percent stake in international online payments service provider Payvision. This latest move into innovative financial services will strengthen and expand ING's digital payments business, especially in e-commerce.

Business clients will be able to accept payments through any channel or device, including in-store terminals and web shops. And it gives consumers more choice in how they pay and a convenient, seamless shopping experience. At the same time, Payvision will benefit from ING's worldwide distribution network and broad Transaction Services offering.