ING is sustainability leader among banks
25 August 2016
...

min read
25 August 2016
ING received top scores for environmental, social and governance performance according to Sustainalytics, a global leader in sustainability research.
With a score of 86 out of 100, ING is No. 1 out of 395 banks rated by Sustainalytics, a global provider of environmental, social and governance (ESG) research and ratings.* The rating is an important one, partly because many investors incorporate Sustainalytics' analysis into their investment decision-making process.
This high score is an acknowledgement of ING's strong policies, transparency, good financial results and a decrease in incidents of negative press on environment and governance-related issues, according to Sustainalytics.
"It's like the Olympics—winning a gold medal is one thing, but keeping it is another," says Leon Wijnands, ING's global head of Sustainability. "I see this as recognition of the entire ING team. You can see it from the elements that are measured—there are so many, which show how important it is to integrate sustainability into all parts of the business."
ING scores 90 out of 100 on social issues, receiving top marks for our financial inclusion efforts, stance on human rights, and strong diversity programme and anti-discrimination policy.
We also score 90 on environmental issues, recognised for our strong environmental policy, renewable energy targets and green procurement policy, for example. For governance, ING scores 80 out of 100, recognised for strong policies on things like whistleblowing, bribery and money laundering.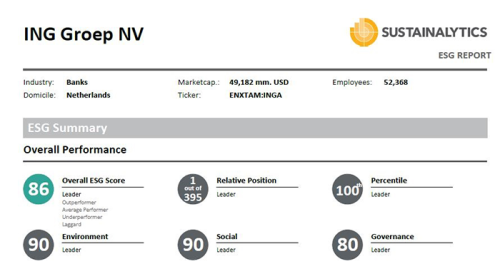 *Sustainalytics' assessments of ING Groep NV's performance as of July 2016. ING Groep is part of Sustainalytics' research universe of 395 publicly traded banks.