ING launches Twyp
08 December 2015
...

min read
8 December 2015
ING launched Twyp, a peer-to-peer-payment app, in Spain today. Twyp, an abbreviation of The Way You Pay, is an app that allows consumers to pay small amounts to contacts on their mobile devices in just a few seconds.
The launch follows a successful 'family and friends' pilot that that took place over the past few months. The app for instant mobile payments is available for both ING customers and non-ING customers. ING will also look into launching the app in other countries where it operates.
Easy to use
Consumers can easily download the app from the App store and Google Play. After a simple registration process, it is ready to use. Twyp uploads the user's contact list with user permission and an icon indicates which contacts use Twyp already. Users can invite their contacts to use the app as well. Money transfers can be done via a chat function and a personal code confirmation.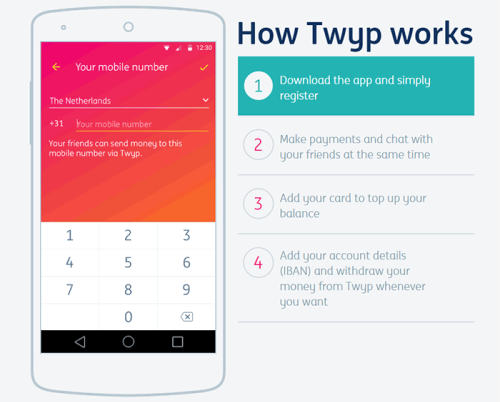 Twyp, which already contains key functionalities, will be further developed using customer feedback to enhance the customer experience even more.
Increasing the pace of innovation
The launch of Twyp is another example of ING fast-tracking the introduction of innovative initiatives to transform banking. Last month, ING announced a partnership with instant lending platform Kabbage which is also being piloted in Spain. The platform allows small and medium enterprises to apply for a loan and have it approved within 10 minutes via a paperless process. Just like Twyp, it creates a differentiating customer experience by offering a clear and easy solution.
For information about Twyp, please visit www.twyp.com