ING powers the way into solar energy in Japan
25 January 2017
...

min read
25 January 2017
ING is helping Japan meet its renewable energy targets by financing a project that will generate enough solar electricity to power 4,500 households.
ING provided new client Nagi PV GK with JPY 3.86 billion (EUR 31.56 million) to finance a new 14 megawatt solar photovoltaic (PV) farm in the west of Japan's main Honshu island. Once operational in the second quarter of 2017, it will generate up to 16,300 megawatt hours of renewable electricity per year. This is equivalent to powering 4,500 homes.

The electricity will be sold to the regional utility company Chugoku Power under the Japanese feed-in-tariff programme.

Solar power is the top renewable energy source in Japan, which aims for a quarter of its electricity to be clean by 2030. The country is the world's third-largest producer of electricity from solar PV panels after Germany and China.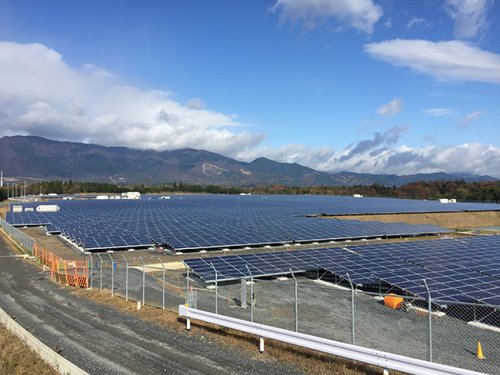 "There was a tight competition for this transaction but we won the mandate based on our experience as a prominent solar PV financier in Europe and our credentials in the Asian power sector financing, as well as ING's vast network, including in Thailand (the sponsor's host country) and Japan," said Erwin Maspolim, Wholesale Banking's head of Utilities and Infrastructure Finance Asia.
Low-carbon economy
While many newcomers are entering the renewables space, ING has established experience in supporting several and diverse renewable projects around the world, including solar, wind, geothermal, hydro and waste-to-energy.

Solar power is an important part of Japan's renewables ambition, particularly in the wake of the 2011 Fukushima disaster, which shifted the country's focus from nuclear power to other renewable sources.

In addition to generating green electricity, the solar PV farm will help Japan to lower its carbon footprint by avoiding some 12,500 tonnes of CO2 emissions a year.

"This transaction finances a solar project that contributes significantly to a low-carbon economy," said Ambika Jindal of ING's Sustainable Finance team. "It's helping Japan to reach its goal to meet its 25% renewable energy target by 2030."

Growing market
This was one of the first Japanese solar projects arranged by ING Asia. The bank acted as mandated lead arranger, interest rate swap arranger, facility and security agent and account bank.

"We can build on this experience and best practice to finance more green projects in Japan and the rest of emerging Asia, where there is growing interest in the use of solar PV panels," Erwin said.

He added: "The involvement of a prominent name like ING will have a positive knock-on effect on other renewables projects in the region, giving more financiers the confidence to support them, thereby accelerating the entire market."

This is echoed by Tomomichi Kageyama, CFO of Nagi's parent company BCPG Japan. "To receive project finance from a prestigious global bank like ING proves the bankability of our project and our capability to source project financing," he said.

Nagi PV is the Japanese subsidiary of BCPG Public Company Ltd, a large independent solar power producer in Thailand with the ambition to diversify and expand its renewable portfolio regionally. The project is designed and constructed by Japan's IHI Plant Construction Co., Ltd. The solar panels are supplied by China's Trina Solar, a leading global PV panels manufacturer, while Toshiba Mitsubishi-Electric Industrial Systems Corporation (TMEIC) is supplying the inverters.