ING sets new targets for Environmental Programme
16 April 2020
...

min read
Listen
ING's Environmental Programme helps make sure that our operational impact on the environment is being made responsibly.
The targets we set in 2015 for year-end 2020 are now on track to be exceeded, so we're updating and upgrading them. This underscores our continuous commitment to climate action.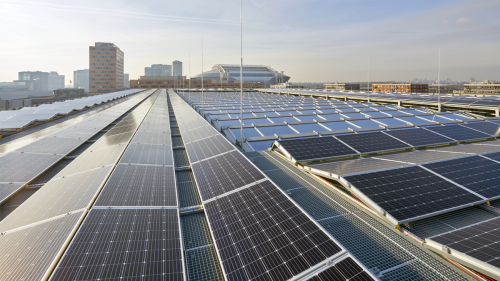 For example, one target was to reduce our total CO2e emissions by 50% by year-end 2020 compared to 2014. We managed to do this by 57% by year-end 2019. Now we introduce CO2e reduction targets split across two categories to be more effective and transparent about our progress.
We will reduce our CO2e emissions from our buildings and data centres by 80% by year-end 2022 compared to 2014, and 90% by year-end 2030.
We will reduce our CO2e emissions from business travel by airplane and car by 25% by year-end 2022 compared to 2014.
Other targets are around energy consumption, renewable electricity, global residual waste and water. They are outlined on our Environmental Performance page.

"Of course, as a bank, our biggest impact is in our financing," said Roel Louwhoff, ING's chief operations officer. "Still, our commitment and leadership to climate action start with our own operations. I'm proud of what we've achieved so far and confident in the ambitious targets we've set for the future."

Going forward we'll continue to work on improving the energy efficiency of our buildings and data centres; implementing more water-efficient infrastructure in buildings; reducing our use of paper while increasing the use of environmentally friendly paper; reducing our use of single-use plastic; reducing the impact from business travel; and working to earn the highest sustainability rating for our head offices around the world (in addition to our new Cedar office in Amsterdam).
How we got here
We've worked hard over the years in our efforts to reach the previous targets. For example, to understand and reduce our energy use, we've carried out regular monitoring, reporting and reduction strategies across our global operations.

Our strategies range from more efficient use of building space, to increasing the energy efficiency of our buildings and data centres, to increasing our use of renewable energy. We will continue to procure 100% renewable electricity from 2020 for all buildings we have management control over worldwide, as part of the RE100 initiative, which we joined in 2015. We have come a long way here too, from 77% in 2014 to 98% in 2019.
Related stories