ING signs Dutch banks climate statement
03 November 2015
...

min read
3 November 2015

ING has joined all Dutch banks in signing a 10-point action plan to tackle climate change.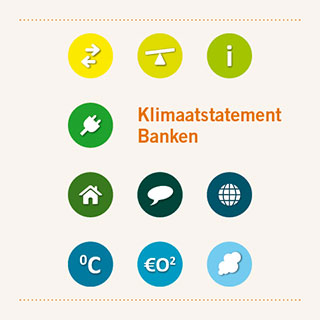 The statement co-ordinated by the Dutch Banking Association (NVB) recognises climate change as a serious problem, which needs to be addressed collectively, and encourages the Dutch government to take extra steps in working towards solutions.
It's the first time all banks in the Netherlands have come together to issue a joint statement, and the first for a banking association in the world.
In a press statement, NVB chairman Chris Buijink said although banks contribute to economic activity, and can have a positive influence on the environment by financing green energy, they cannot do this alone.
In conjunction with the NVB statement, ING released its own climate statement today. Our Statement of Climate Action sets out our strategy on climate change and how we partner with our customers, business partners and other stakeholders to reduce our collective environmental impact.
ING's Statement of Climate Action says: "We monitor and manage our environmental impact closely. We are transparent about the climate impact of our own operations, invest in efficiency solutions in our operations and ways of working, source renewable energy whenever we can, integrate sustainability in our procurement process and have been offsetting our carbon emissions since 2007."
"With regards to our clients' environmental impact, we support clients in their efforts to grasp opportunities to innovate their businesses, but to also support them when they face challenges in developing (new) business models that are more sustainable. At the same time, we apply strict environmental and social criteria in our own financing policies and practices."
The volume of business that ING conducts with clients (or projects) that provide sustainable solutions and are environmental or social outperformers was more than €20.9 billion by the first half of 2015. ING continues to seek opportunities to help customers adapt and innovate their businesses in preparation for the low-carbon economy of the future.