ING talks climate in Katowice at COP24
04 December 2018
...

min read
4 December 2018
Today, four banks joined ING in pledging to align their loan portfolios with global climate goals.
This milestone pledge came as the world's biggest gathering on climate, known as COP24, starts in Poland this week. Together, ING and BBVA, BNP Paribas, Société Générale and Standard Chartered have a combined loan book of €2.4 trillion.

From Amsterdam to Abu Dhabi, the banks have joined ING in committing to measure the climate alignment of our lending portfolios. The aim is to steer them towards the well-below two-degree goal of the Paris Agreement. ING initiated this in September when we announced the Terra approach, which we're co-creating with the 2˚ Investing Initiative.

We've intensified our dialogue with other banks since then, as we believe that an industry-wide standard will increase transparency and will make the industry much more effective at fighting climate change. Today's news is the next step.

"I'm really proud that ING has led the way in starting this movement and that we found other banks ready and willing to join us," said CEO Ralph Hamers.

We'll continue to work on adding more names to the list, as we believe that banks have an important role to play in scaling and accelerating the transition toward a climate-resilient world.

The banks pledge to start by focusing on the most carbon-intense sectors, developing an approach per sector, and engaging with companies rather than simply excluding them. We'll all look at clients' future investments to support their shift to low-carbon assets in line with science-based scenarios.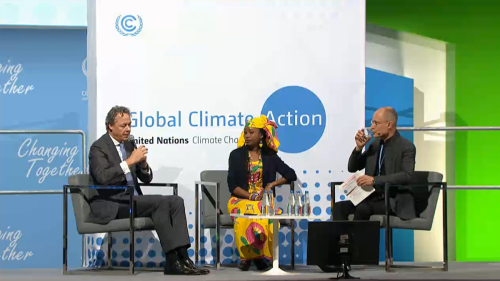 First step: greening houses
ING also today announced progress in our plan to measure and steer our €600 billion loan book. Almost half of this consists of mortgages. We'll take action in our three biggest markets (the Netherlands, Belgium and Germany) to help make this mortgage portfolio energy positive. This means that homes in the portfolio will collectively produce more energy than they consume.

About 55% of homes in our portfolio currently have an energy label of D to G. Our first goal is to upgrade half of these to at least an energy label of C by 2022. We believe this will make a meaningful impact in the fight against climate change, as houses generally account for about 20% of a country's CO2e emissions (including methane and other greenhouse gases). It will also help customers reduce monthly costs and avoid risk by preparing their homes for the future.

To help achieve the goal, we will:
give more information on country websites.
offer green products and services – like the green personal loan or an incentive for houses with improved energy labels.
link customers with business clients that offer innovative energy-proofing products and services.
bring innovative solutions to the market to make it easier for homeowners.
make sure customer-facing staff bring up the topic when a (new) mortgage is being discussed.
Milestones
The two announcements today are positive steps in our contribution to a low-carbon economy.

"We have to continue taking steps like these in order to make sure our impact keeps growing," said Ralph.

"It's a journey that will end only when we're living in a carbon neutral world and have curbed the dangers of climate change."
Related stories