Ignacio Julia Vilar at Money20/20: ING partners with 65 fintechs
25 October 2016
...

min read
25 October 2016
Chief innovation officer Ignacio Julia Vilar revealed yesterday at the world's biggest fintech event – Money 20/20 in Las Vegas – that ING partners with 65 fintechs.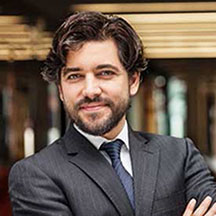 When you're at the forefront of digital banking, Money 20/20 is the place to be. No longer a startup, the fourth edition of the world's biggest fintech conference attracted an audience of over 10,000 professionals.
ING's Ignacio Juliá Vilar was there too. He talked about "Digital Banking: Perspectives on the Disruptors, the Incumbents & the State of the Art".
Ignacio revealed that ING is currently partnering with 65 fintechs that are seen as a "strategic fit". The aim is to come up with better solutions for the customer, faster. ING has invested in 10 of the 65 fintechs.
The platform of choice
At the same time, we are coming up with our own innovations.
In an interview in Las Vegas with Dutch newspaper Het Financieele Dagblad (Dutch pdf / English pdf), Julia Vilar mentioned our in-house developed payments app Twyp, which enables customers in Spain and the Netherlands to transfer money via their mobile phone – even to customers of other banks.

"Our next step is enabling Spanish customers to collect cash with their mobile in 3,500 places such as at supermarkets and gas stations."

According to Vilar, the basis is to put 35 million customers at the heart of everything the bank does.

"Once upon a time, people only came to us for a mortgage. Now we can advise and assist them during the entire process that comes before and after this big decision.

"We're a mobile platform that 35 million people carry in their pockets. This means we have two billion potential contacts with them every year. The traffic is there, and customers trust us. Now we want to become the platform of choice, where people do more than banking."