In the eye of the storm
24 April 2020
...

min read
At ING, we have some colleagues who are working hard to keep us safe and our business running as usual for our customers. Who are they and how are they helping us get through this crisis?
Lorenzo Torti, Italy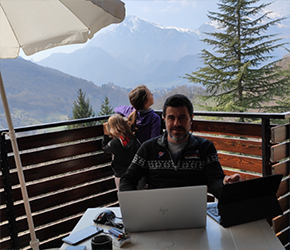 "Daddy is working with the ears"
"We'd been talking about possible pandemic scenarios since early January. When the first case was detected in Lombardy on 21 February, we started working on the crisis that same afternoon. I got a list of people who were supposed to travel for business, and literally called them away from the airport and, in a couple of cases, from their airplane seats. We had to respond fast to assure the safety of our staff and the continuity of operations for 1.3 million Italian customers. I've practically worked non-stop for a month. In March, I made 437 outgoing calls for about 78 hours in total, excluding Skype and incoming calls. My 4-year-old daughter now says 'Daddy is working with the ears', as I constantly have headphones on. At the end of February, we moved from Milan to a village in the mountains for the lockdown. I'm obviously worried about my parents, considering my mother goes to hospital every day for cancer treatment. Personally, I'm most proud of organising a proper birthday party for our 8-year-old daughter during the lockdown, with presents, a heart-shaped pizza delivery and video call celebrations with her grandparents and great-grandparents in Milan and Russia. Professionally, it's the fact that despite the situation we remain absolutely committed to our customers."
Adri Kieboom, Netherlands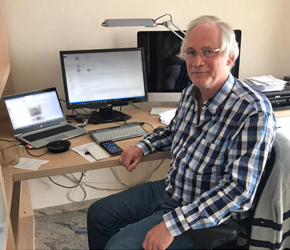 "I've never seen anything like this"
"In my career at ING I've seen many crises – 9/11, the Mexican flu, SARS, to name a few – but I've never seen anything like this. As always, when a problem arises, I take it on right away, answer every question as quickly as possible, create structure – that's my job as a business continuity manager. For me, things started getting serious on 27 January, when it became clear this virus would not stick to China. That week, the global crisis team was set up, as well as the ING Netherlands corona support team, with all disciplines on board. We immediately took hygiene measures in our offices and informed Dutch colleagues on travel restrictions. After the first Dutch Covid-19 patient was confirmed, corona-related incidents started to happen quickly. In the first weeks of March we worked around the clock to be able to switch as many employees as possible to working from home. I'm proud that we made this happen in less than a month. I'm also very proud of the colleagues who are working in our branch offices to make sure we still have face-to-face service in addition to our digital and call channels. Every day, they have to leave their homes and are in direct contact with the public. It's tricky and it asks a lot from these colleagues but they do it."
Bart Schmeetz, Netherlands/UK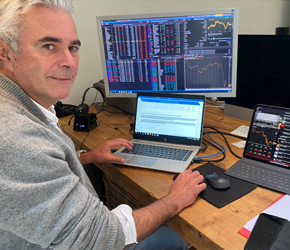 "The market is on fire"
"Along with Bank Treasury and Payments & Cash Management, FM was among the first teams working in split operations. For me, it has been the steepest learning curve ever. Not only am I new to this role (I only started this position in January), but I'm having to steer this complex organisation through a market environment that is on fire. My first goal is keeping FM employees safe. In recent weeks we've had to evacuate and disinfect several locations. To minimise this risk we are working from home as much as possible, which is a challenge as some FM activities depend on high volume and high-speed system access. Most of my day, from 7:30 a.m. to 7:30 p.m. is spent in more or less continuous phone calls, ending with a briefing for the MBB. In this new way of working, communication and collaboration are absolute prerequisites. I find it more intense than being in the office and seeing clients and co-workers face-to-face. I'm most proud of how fast we've pulled this off, the outstanding collaboration across the bank, and how resilient our FM community is in an environment that is unprecedented in terms of stress and volatility."
Gary Chong, Singapore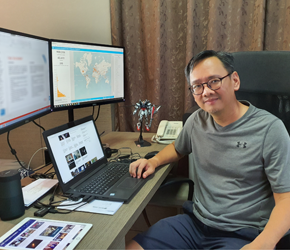 "When should we push the button?"
"I stepped into this role in early February. At that time, Covid-19 impacted mostly colleagues in China. But it quickly became clear it would explode in the region – and globally – much faster, and potentially more dangerous, than SARS or H1N1. Being a certified business continuity planner, and having managed the SARS crisis at another bank in 2003, I knew it's important to have a consistent approach across all the countries. This included setting clear criteria for when to 'push the button'. The majority of our staff in Singapore are working from home. I continue to have regular standups with my ORM team, which is still my 'normal' job alongside this, although it's different when you don't see people's body language. That's why I always encourage them to speak up and tell me how they're feeling. When the going gets tough, I think back to my time in the Singapore Armed Forces. It taught me important lessons about resilience, teamwork, overcoming challenges and never giving up. This helped me scale Mount Kilimanjaro a few years ago, one of the toughest challenges I've had to overcome. When this is over, the first thing I'll do is get my team together to thank them for their work in these extraordinary times."
Francis Manangan, Manila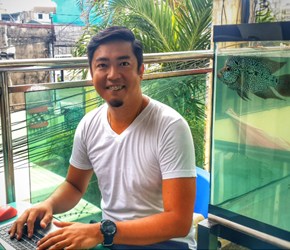 "The fish keep me company"
"I live in a small apartment in Manila. In March, I had this aquarium delivered with two beautiful fish to keep me company during the month-long lockdown. Initially, I worked with our 12 locations in Asia to prepare for an outbreak regionally and globally. They made an inventory of the materials and equipment they would need and I helped them get those supplies. For example, I solicited face masks from locations with spare stocks and moved them to locations with no stocks, or that have difficulty in getting them locally. What keeps me busy now is reporting the numbers accurately to the global crisis team and updating them on what's happening in Asia. I have learned a lot from this, from initial crisis response to global reporting. This epidemic knows no socio-economic or cultural boundaries and it's very moving to see leaders working together to achieve one goal – and that is to defeat Covid-19."

Managing the crisis
In every ING country, local crisis management teams ensure the health and safety of our employees and the continuity of our business. Each day they provide updates on the local spread of the virus and the measures they've taken to the global Crisis Management team in Amsterdam, headed by Beate Barth, global head of Non-Financial Risk and Beate Zwijnenberg, ING's chief information security officer. This global Crisis Management team, together with senior executives from HR, Operations, IT, Communications, Procurement and the business lines, monitors the global situation, guides countries according to a global pandemic plan, and reports to the Management Board Banking and to our supervisors.
Related stories