Innovation Bootcamp: Kids rule
13 June 2016
...

min read
Listen
13 June 2016

The eight finalists in ING's third annual Innovation Bootcamp competition faced extra scrutiny this year from a new generation of judges: the Kids Counsel.
Innovation Bootcamp challenges ING employees worldwide to come up with smart ideas which help empower our customers, and then to turn those ideas into reality. In its third year, the current programme started in January, when employees across ING submitted 1196 ideas.
The 100 best ideas were selected for Innovation Bootcamp and were further developed by international teams of employees, supported by innovation mentors.
These ideas are then reduced to a final 30, which then go through 'pressure cooker' workshops, designed to test the mettle of the teams to ensure their idea really does solve a problem.
The final eight teams delivered their 15- minute elevator pitches before a six-person jury consisting mostly of ING senior leaders in front of an all- employee audience last Thursday at the Sugar Factory in Amsterdam.
Awards for the top three ideas and a People's Choice Award were handed out by CEO Ralph Hamers and Chief Innovation Officer Ignacio Julia Vilar.
The winners get an opportunity to create a minimum viable product during a six-month stay at the ING Innovation Studio.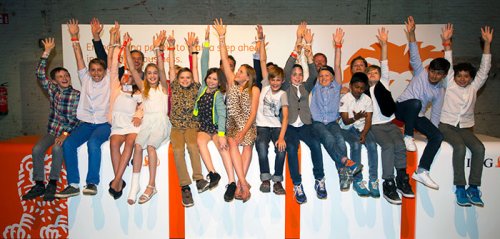 Kids in action
This year, the eight finalists also had to present before the Kids Counsel, set up in cooperation with the Missing Chapter Foundation, founded by Dutch Princess Laurentien van Oranje. The foundation promotes discussions between children and executives of large corporations. So far, they've exposed around 60 boards of directors of Dutch companies to the honest feedback of 9-12 year olds.
The group of 14 children from the International School of Amstelveen handed out the Kids Counsel Award. The self-designed and 3D printed award went to a mobile application that makes online shopping easier and faster. "By asking simple and honest questions, children confront us with how we think and act ourselves," Princess Laurentien explained on her foundation's website.
Taking first prize
The big winner this year was a concept to digitalise and automate commodity trade finance processes using blockchain technology.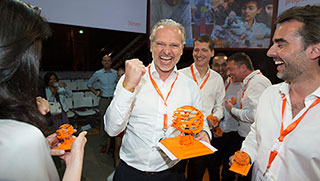 Winning ideas from the two previous Innovation Bootcamps include Orange Assistant, a service that automates day-to-day banking based on customer-set rules and triggers, and Direct Lease, an online leasing platform for small and medium-sized enterprises. These are now available to customers in Turkey and the Netherlands respectively.