Mobile banking: the new norm
ING's seventh international survey on mobile banking tells a story of steady adoption. It shows more and more people are managing their money on the go. However, most are not quite ready yet to leave all their financial decisions to robots.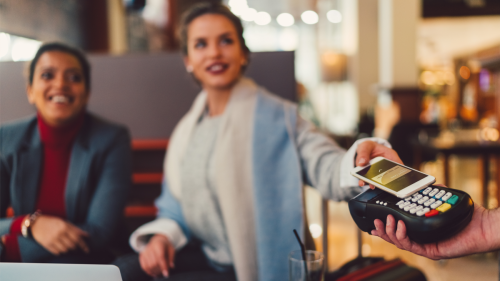 The survey asked almost 15,000 people in Europe, America and Australia about their attitude to and use of financial technologies (fintech), automated banking and data-sharing, which are changing the face of banking.

Despite a natural hesitancy to accept things that are new, it found a deep desire among people to control their own finances. Digital banking has made this easier than ever. Nearly 70% of respondents in Europe now use smart devices to check their balances, transfer money or pay a bill, versus around 55% in 2017.

The survey also found that most people remain loyal to their own bank, although nearly half of Americans (49%) and 45% of Europeans also use alternative providers to manage their money.

Three-quarters of respondents are keen for their own bank to deliver the latest technologies. An even greater percentage want these technologies to be available everywhere, suggesting an openness to new tech that – like mobile banking – should lead to rapid adoption.

"Mobile banking is now a habit with many people, but early adoption did not happen suddenly," says ING behavioural scientist Jessica Exton.

Findings collected over the past six years show the use of mobile banking follows a classic bell curve - rising from the first early users to a peak of adoption and back down as most people who are going adopt it have now done so.
Robo-advice
When it comes to automated banking, most people are reluctant to hand over all their money matters to a computer, with three in five people saying no to a 'robo-advisor' making investment decisions on their behalf. However, only 35% of Europeans are against a computer analysing their spending habits and recommending improvements.

This indicates they are more like to accept robo-suggestions that give them control over their financial decisions rather than trusting an algorithm-driven computer program to make those decisions for them.

In general, people in Turkey are the most open to robo-advice.
Open banking
The introduction in Europe of the new payments services directive (PSD2) lays the legal groundwork for banks to share data with other authorised financial service providers – with the customer's permission, of course. This makes it easier for consumers to pay for things online, see all their finances in one place and have more choice about which provider they use.

Few people have heard about open banking, which is unsurprising given its infancy. The service is still being rolled out across Europe, where it must be available by September 2019.

More than half of Europeans and Americans (55%) were not even aware that financial providers could access their financial information from another company. Some, such as 61% of Germans who are aware of type of financial data sharing, welcome the idea of open banking. Others are highly sceptical. Only 23% of Dutch familiar with it, are happy for their information to be shared this way.

"Academic research suggests more than awareness is needed to determine whether people will adopt such new technology. It must be useful, compatible with lifestyles, easy to use and quick to work, and seen to be used by others," says Jessica.
Read the full survey on think.ing.com
Related stories