ING in Poland and Turkey introduce digital wallets
ING in Poland and Turkey have each introduced digital wallet solutions to make the shopping experiences simpler.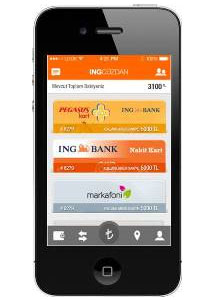 The proliferation of smartphones and mobile banking in recent years has spawned various new payment methods. One of them is the 'digital wallet', a way to store the information in a person's physical wallet, such as bank account and credit card details, a driver's licence or loyalty cards, virtually.
The main advance of a digital wallet is that it makes purchases made online or with a smartphone safer and easier because card details are provided only once and then saved on the wallet.
ING Turkey's new digital wallet, called ParaMara, is a mobile banking app available to both ING and non-ING customers. It allows people to conduct a wide range of actions, such as transferring money (to an ING ATM, to an ING card, between ING cards, or to a user's Facebook account), withdrawing money from an ING ATM via a QR code, asking for cash, and more.

Users will be able to add their existing ING cards to their wallet or get virtual "Ininal Prepaid Card" from ParaMara. Ininal Card is an exclusive partnership between Provus (a MasterCard Company) and ING Turkey and offers up to 20 percent discounts in top e-commerce sites and in shops.
In a forthcoming update, the ING Wallet will be able to be combined to contactless payments with their mobile devices. So, for example, a customer will be able to pay at a petrol station without leaving the driver's seat.
Poles apart
By contrast, ING Bank Śląski's digital wallet is based on a solution developed by VISA called Visa V.me, and branded as ING Digital Wallet.
It allows customers to pay online without having to enter their payment details anew. When ready to pay online, the user selects the V.me by Visa payment option, logs into their ING Digital Wallet, checks the cards they want to use and then clicks 'pay'. The Visa system that detects and prevents fraud increases the overall safety of the transaction.
Poland's ING Digital Wallet allows customers to store details from their debit and credit cards, prepaid cards, Visa and MasterCard charge cards, including those issued by different banks.