"Need a break? Take it!" – Ruth McGill
14 December 2020
...

min read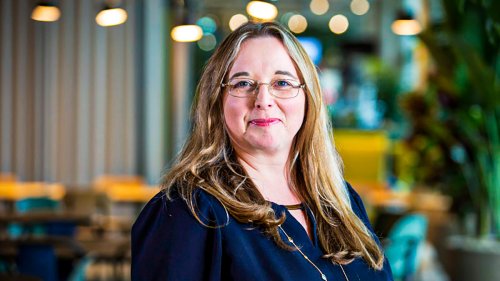 Ruth McGill became ING's chief HR officer early this year. And what a year it was. As our workplace is transformed by corona, data science and digitalisation, she talks about today's big HR challenges – enabling employees to stay strong and get ready for a digital future.
You started in this role in January, before the coronavirus hit the world. What support could HR give to people through the crisis?

The most important priority was going back to basics: keeping people safe and healthy, and enabling them to do what they need to do. We also helped people to continue to learn and develop themselves, and we've seen a fantastic take-up of our digital learning offerings this year. There are offerings aimed at all employees, such as nutrition and managing resilience, and for leaders, like how to lead teams virtually. And we're going to keep going in that direction and provide digital learning on topics that people need right now.

What our people have achieved during the Covid-crisis in terms of supporting our customers and each other has also been absolutely incredible. We need to keep supporting our staff with their well-being because they are working very, very hard. Now it is even more important to have check-ins like our year-end performance management conversations to see how we can support our people in their work, development and wellbeing.

The boundaries between work and home are very blurred at the moment…

For sure! We have people who are so committed and want to make a difference. And when you care that much, it's hard to cut off. We need to consciously set boundaries, and those boundaries will be different for everyone. Some people will say they feel guilty about taking a break, but it's really important that we take those breaks! And that's what a lot of our learning offerings focus on too: getting into the right habits.

Managers should learn to focus on output, not input. And a positive effect of the current situation is that we are focusing more on outputs. We should give people the choice of how best to organise their work, within the context of business needs.
Have we seen a revolution in home working this year? Or will things eventually go back to the way they were?

The shift to remote working has been unprecedented. Our employees need to get used to a completely different reality. Even before Covid, focusing on mental and physical health was a priority for HR. And while some people have always worked flexibly, that the vast majority would work from home was something many were not used to. We expect that in a post-Covid world, employees will – where possible – work on average around half of their time virtually. This is not set in stone, but is a starting point and we will be testing 'new normal' guiding principles in several countries.
You need to ask 'how are you?' in three different ways to find out how someone is really doing.
- Ruth McGill
Is it good for your career if you work from home?

It shouldn't matter. Wherever you work, you need to feel included in your team. The inclusion piece will become more important in how our leaders manage their employees, as well as how we onboard new people so they get a feel for the ING culture. Also, all employees must have the same opportunities in terms of progressing their careers and developing themselves – regardless of whether they work at home or in the office, or take a hybrid approach.
Which leads us to another hot topic: diversity and inclusion. How important is this to you, especially now?

It underpins everything we do. We have an ambition for the composition of teams in terms of gender, age and nationality, but that's only the first step. You can have diversity in your workforce but without inclusion. It's important to make everyone feel included because we know people perform better if they are free to be themselves. And we need to make them feel comfortable no matter how different they are.

Inclusion is part of who we are. But we can't get complacent when we move to a 'new normal'. I've learned that introverted people need to be drawn out. Or, people working from home may feel they don't have opportunities to speak up during a meeting. We have to be really, really conscious about creating that inclusive environment. We've just just been recognised by Financial Times (FT) as one of the leading European companies in inclusiveness, so we're definitely moving in the right direction. Let's keep it that way.

Apart from the shift to remote working, there's also a huge digital transformation going on. How to prepare for that shock?

HR is here to enable our business performance. That's why we're working with the business helping employees develop the capabilities that we'll need to deliver our strategy as a company. We call those our Big 6 capabilities. Let me give one example: data fluency. Data fluency is not just for data scientists. We all need to be data fluent, but your level of data fluency depends on your role. In a contact centre it means something different than if you work in Financial Markets. Data fluency is not scary – it's cool stuff.
What's your advice to employees right now?

First, don't deprioritise your own wellbeing. Take it seriously and make use of our offerings. On airplanes, they always tell you to put the oxygen mask on yourself first before putting it on your child. That's an extreme example, but it reminds us that you have to take care of yourself first. Secondly, look ahead, stay focused on your development plan and make sure you have good performance conversations with your manager.
Let's look ahead. What will the HR function look a few years from now?

We should be just as obsessed with the employee experience as we already are with the customer experience. That means making things easier than shopping online, and having processes that leave time for conversations that matter. I would also love HR to become stronger in analytics, especially on the predictive side. In terms of learning, we're beginning to offer a really user-driven experience. The 'My Learning' platform that's just launched in Netherlands and Belgium can suggest content relevant to the job you do, including on our Big 6 capabilities. Very much 'do your thing'!
How is Ruth doing?
"Like everyone, I've been juggling work with home. What I've learned is that you have to go with it. You can plan, but you have to be flexible and deal with the unexpected. My main challenges personally are managing all the internet traffic when I'm online, having a clear cut-off between home and work, and trying to stay connected to people, despite working from home. I'm an extrovert, so not being able to have face-to-face talks is hard. Instead, I'm having a lot of one-to-one calls. You need to ask 'how are you?' in three different ways to find out how someone is really doing. It's critical to take the time to make a personal connection, even if it's virtual."