Payconiq helps Belgium go cashless
09 February 2017
...

min read
9 February 2017
Mobile payments. Thanks to Payconiq, they've become perfectly normal for many Belgian consumers. Find out how an ING initiative is conquering the Belgian market, with competitors joining in.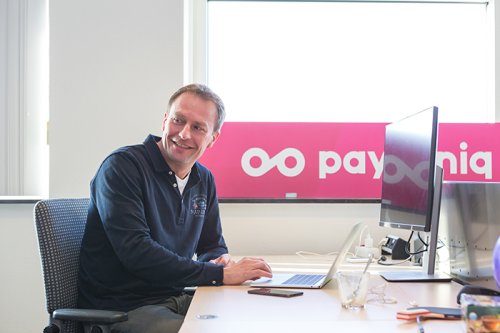 We are seeing the first generation to not carry wallets or purses. In China, paying by mobile phone has become an accepted way of life. Lots of young people no longer see the point of using cash or payment cards. In Europe too, mobiles are taking over from purses or wallets, with Belgium as one of the pioneers. At the end of last year, there was an acceleration in mobile payments among the Belgians thanks to Payconiq, an ING initiative launched in 2015.

The phone app can be used to pay in thousands of shops and to transfer money to family and friends if they have the app too. You can also collect loyalty points at shops. The Belgian SME market is embracing the initiative, with no fewer than 16,000 retailers signing up in a single quarter. And last but not least, various large Belgian banks including KBC and Belfius have joined the platform.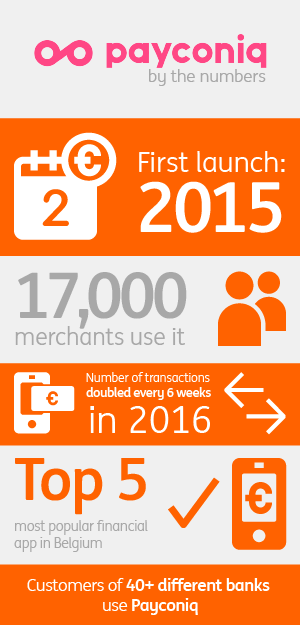 What is Payconiq's strength?
Payconiq's strength lies in its simplicity, says CEO Duke Prins. It's what customers and consumers want: a simple and cheap way of paying digitally.

"It's a 'simple' solution: the app takes very little time to install. There's no need for retailers to buy expensive hardware. They just need a laptop, smartphone or tablet. There are no onerous connection requirements either."

Prins sees the flexibility as a major advantage too. You can use the app at home to order and pay for a product. You can then collect your order directly from the retailer by showing your payment number.

Last summer, the Belgian bank KBC joined Payconiq. Programme Manager Piet Malfait of KBC says that Payconiq "is not just a banking product". He praises the benefits for the retailer. In his view, the combination of the convenience of paying with your mobile phone with the loyalty programme is "unique in Europe".

"Retailers want to digitise their loyalty programmes, which they can do with the Joyn loyalty programme that's linked to Payconiq. They can also use it as a digital marketing platform by, for example, sending an e-mail automatically to a customer on their birthday."

For Prins, joining forces with other banks is essential for further growth: "Partners such as ING, KBC and Belfius inspire confidence. With these partners on board, customers know that the product is secure and professional."
How did ING, KBC and Belfius find one other?
ING was behind the original idea for Payconiq. ING global Head of Transaction Services Mark Buitenhek explains how the bank arrived at the initiative.

"We came to the conclusion back in 2014 that the Payment Services Directive 2 [a European Directive about payment services] would fundamentally change payment services. We thought: it's better for us to invent something that will make our services redundant, otherwise somebody else will do it."

The aim of the European Directive, known as PSD2, is to make payment transactions easier and more accessible for third parties from 2018. This is expected to lead to a surge in new providers, also from outside the financial sector. ING had started a number of innovations related to this even before PSD2, including Payconiq. The first version went live back in 2015.

Buitenhek: "The starting point was not our self-interest, but the wishes of customers. What would be the most useful and convenient product for users while being secure at the same time? We didn't know then whether the innovations would catch on. Twyp, for example, wasn't a success in the Netherlands, but was popular in Spain. The markets are different and that's something you need to learn from."

ING saw Belgium as a great springboard for Payconiq. The Belgian market is transparent and is open to innovation. In addition, this was something new for Belgian retailers and consumers. Contactless payments with a bank card are still uncommon and Payconiq would immediately be two steps ahead. The first Payconiq payment was launched in shops in the Belgian city of Leuven.

By coincidence, the Belgian bank KBC had also recently launched a pilot of their CityLife loyalty programme in Leuven. ING and KBC employees in Leuven got together and the idea for collaboration was born. Shortly afterwards, Belfius was the third bank to join the alliance of competitors. To facilitate more of these partnerships, Payconiq will operate as an independent company with participating banks as minority shareholders.

Consumers and business operators don't want all kinds of different systems with complex hardware, high costs and different conditions, Buitenhek explains. He believes that existing online payment standards, such as Bancontact in Belgium and iDEAL in the Netherlands, are great examples of what can be achieved by working together.

According to Buitenhek, Payconiq can be just as successful.

"It has features from iDEAL, but goes a lot further because companies can link all kinds of products to it, such as loyalty schemes, loans or insurance products. App builders like Joyn can link their own apps to Payconiq and develop them further."
How big can Payconiq get?
For Payconiq, growth is not a choice, but a necessity, explains Prins.

"We need to grow very big very quickly. Only the large players will survive in this market, just like in the credit card market, where there is only room for a couple of names, such as Visa and MasterCard."

Buitenhek expects growth to take off once several banks and other players simultaneously "turn up the heat" when it comes to sales and marketing. He thinks it is also important for large retailers to come on board. Payconiq is currently working hard to be accepted by supermarkets and other large retail chains.

Buitenhek emphasises that critical mass is vital if Payconiq is to become the standard. He does not rule out expansion abroad either if Payconiq is a proven success in Belgium.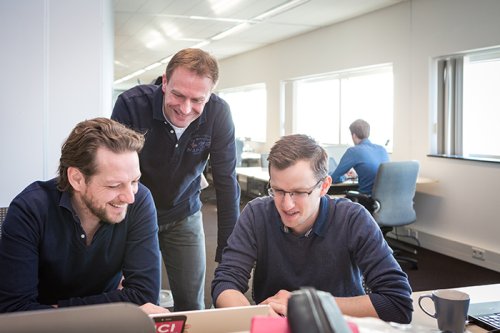 Malfait says that making Payconiq the standard will demand self-discipline from shareholders and participating banks.

"They need to support Payconiq's management to develop the product further. Payconiq shouldn't have to meet all kinds of demands from shareholders, but be able to fully commit to a product that is as user friendly as possible."
Prins is pulling out all the stops to maintain the focus. He believes that Payconiq has major advantages, such as the option to transfer money to friends. Users can see in their app whether their contacts also use Payconiq. "This can have a snowball effect."