Platform Pioneer Jordi Hoedt
05 March 2019
...

min read
Listen
ING's purpose is to empower people to stay a step ahead in life and in business. To continue doing this in a world that is changing quicker than ever before, we need to be where our customers are - on digital platforms. Our own and those of others. Offering a uniform, differentiating ING experience that's instant and borderless.

So what platform initiatives are ING employees currently working on? In this series we speak to some of our platform pioneers, the employees working on platform initiatives throughout ING.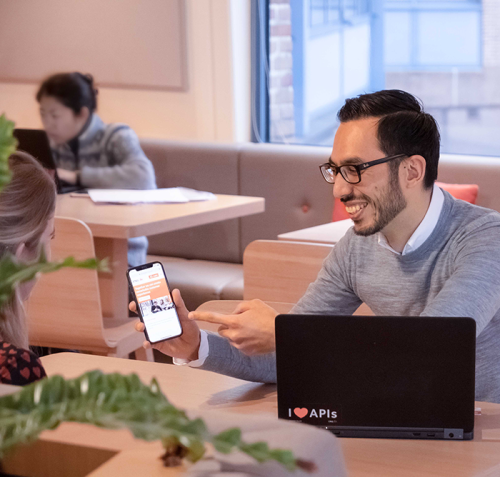 Name: Jordi Hoedt
Role: Product owner
Country: The Netherlands
Joined ING: September 2018

What platform initiative are you working on?
I'm working on the ING Developer Portal, which is part of an open banking platform where external developers can access ING's application programming interfaces (APIs). APIs are pieces of software that allow applications to communicate with each other.

Open banking is a crucial enabler for ING's platform strategy. So the launch of the portal in May last year was an important step in this journey.

Our ambition is to become the go-to API platform for financial needs.

What can users do on the platform?
The APIs on our platform allow users to re-use some of our capabilities. A good example is Payment Request, which is a successful feature in the Dutch mobile app that allows customers to do consumer-to-consumer payments. Making it available on our platform through an API allows others to re-use it to send payment requests to their own customers.

In addition to APIs, users can find documentation about how to use our APIs including a sandbox environment to test them.


How does it help customers?
The platform enables us to collaborate with external partners, which allows us to speed up innovation and pursue new business models. Together we can co-create the best user experience possible for our customers.
How are you contributing to this in your role?
As a product owner, my aim is to inspire developers and make it easy for them to find and use our APIs so they can create awesome customer applications. Based on their needs, I shape the platform's customer journey, improving its features and the user experience.
What do you like most about working for ING in this area?
I love that we're creating a new platform from scratch. For me, it's the perfect mix of innovation and new product development. I see a lot of value and potential in our platform. It's a great challenge to look for that win-win-win for all parties involved (producers, consumers and ING itself).

What are the biggest challenges?
APIs are a rather technical product that not many people in the financial industry are yet familiar with. One of our main challenges is to educate stakeholders, both inside and outside of ING, on what APIs are and how they can be used to improve the customer experience or create new business models. Only then are we able to unlock the full potential of our platform.
Where do you see ING in five years with regard to platforms?
It's difficult to predict what the banking industry will look like in five years' time. Considering what's already happening in other industries, I think we can expect plenty of interactions, connections and different roles in each of the platform-based ecosystems that ING will be part of.