Platform Pioneer Natalie Geigenberger
05 March 2019
...

min read
Listen
ING's purpose is to empower people to stay a step ahead in life and in business. To continue doing this in a world that is changing quicker than ever before, we need to be where our customers are - on digital platforms. Our own and those of others. Offering a uniform, differentiating ING experience that's instant and borderless.

So what platform initiatives are ING employees currently working on? In this series we speak to some of our platform pioneers, the employees working on platform initiatives throughout ING.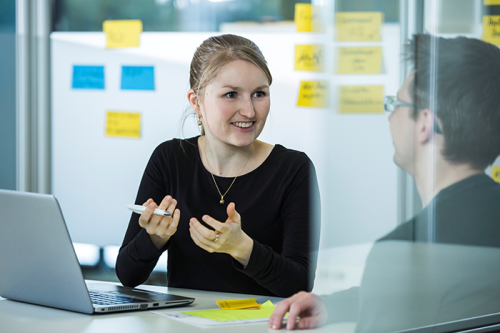 Name: Natalie Geigenberger
Role: Product owner
Country: Germany
Joined Interhyp: October 2015

What platform initiative are you working on?
It's called Interhyp Home. This new digital service is a personal mortgage platform for customers that helps them manage their mortgage request digitally and directly interact with their Interhyp mortgage advisor.
How does it help customers and/or ING?
Interhyp Home is one, digital home for all mortgage documents and information, which makes life much easier for them. For example, the option to calculate various scenarios or interact with advisors empowers customers and makes them feel more secure with their mortgage project – which for most of them is the biggest financial decision in their lifetime.

Besides significant process efficiency, Interhyp Home helps create a closer and stronger relationship with Interhyp. Take document management for example. We see that customers appreciate the ease of sending relevant documents via Interhyp Home. They upload approximately 30,000 documents per month. This helps us meet customer expectations. And mortgage advisors get easy digital access to the required documents.

How are you contributing to this in your current role?
As a product owner, I'm responsible for bringing our vision of Interhyp Home to life. The basis for this is defining clear goals and creating a vision. I communicate with stakeholders (including customers, managers, and the development team) to make sure that goals are precise and aligned with business objectives. So I'm the primary communicator and link between stakeholders and my development team. Managing the product backlog as well as prioritising needs is another part of my daily business. Finally, I'm responsible for each stage of the development process and the final product.
What do you like most about working for Interhyp in this area?
Interhyp started out as one of the first European fintechs and today is the leading force in mortgage brokerage in Germany. By developing the next generation of digital products, I can help shape Interhyp's future business. This makes me proud. Doing this in an agile environment on the Interhyp Campus means collaboration with specialists from various backgrounds/disciplines and helps us concentrate on customer needs. This is very satisfying.
What are the biggest challenges?
One of the biggest challenges is to meet customer expectations. Although we're in close contact with customers and constantly ask for feedback, it's not easy to translate the information into working software. You have to listen very carefully, ask the right questions, draw conclusions and learn from mistakes.
Why, in your opinion, is it important for ING to be a platform business?
We have 19 years' experience in platform business and see an increasing customer demand for openness and transparency. For ING, more platform business helps to meet these expectations.