Platform Pioneer Zuzana Vydrova 
05 March 2019
...

min read
Listen
ING's purpose is to empower people to stay a step ahead in life and in business. To continue doing this in a world that is changing quicker than ever before, we need to be where our customers are - on digital platforms. Our own and others. Offering a uniform, differentiating ING experience that's instant and borderless.

So what platform initiatives are ING employees currently working on? In this series we speak to some of our platform pioneers, the employees working on platform initiatives throughout ING.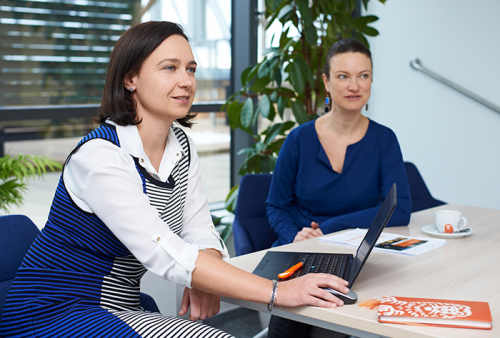 Name: Zuzana Vydrova
Role: Head of strategic business development/ business lead for Model Bank project
Country: Czech Republic
Joined ING: March 2017
What platform initiative are you working on?
I'm working on introducing and implementing a new platform solution, called Rubik, for Model Bank in the Czech Republic. We're the first country on this Rubik platform. We went live in December 2018 with a savings account and mutual fund. At the same time, I'm working on the next phase, the launch of a standardised solution for four Model Bank countries (Italy, Spain, France and the Czech Republic). This phase will provide a full retail portfolio to clients on the Rubik platform.
How does it help customers and/or ING?
By launching the platform, the Czech Republic was able to decommission some of its old systems. That means huge improvements for colleagues in branches and our call centre. It makes their work more efficient and easier by having everything in one place. They're also able to see exactly what a customer sees in front them so we can guide customers better and empower them to be fully digital.

Implementation of a Model Bank solution for customer intelligence allows us to use data, analytics and insights to create relevant and individualised communications to engage customers in interactive discussions, optimise interactions across channels and monitor and react quickly to customer actions.

Currently, we're offering a new customer experience and a more intuitive platform. In the future, we'll also offer a full set of retail banking products (current account, loans and cards).

How are you contributing to this in your current role?
My responsibility is to concentrate on the functionalities and solutions that Czech customers will receive. To achieve that, we needed to ensure the solution was implemented and introduced successfully on the Czech market using the experience from Spain and Poland. It's my job to make sure that we balance a global standardisation mind-set with fulfilling all necessary local requirements. This part is the most challenging and requires the most business and relationship savviness.
What do you like most about working for ING in this area?
Being the pathfinder on this platform, it was a huge business development, transformation and IT project for the Czech Republic. There were plenty of challenges on a daily basis. But it gave those working on it the possibility to build something new, learn at rapid speed as well as challenge and extend their limits. All of this was done in an international team across the whole of ING and involved day-to-day cooperation with Model Bank colleagues in Spain, Tech colleagues from Romania and Poland, and many others.
What are the biggest challenges?
Being a pathfinder brings many challenges. With the Model Bank team in Spain, the Czech team in Prague and many other parties, we needed to learn how to cooperate together and be one big, unified team. You also need to switch the way you think and broaden the picture. Working with a standardised solution you need to step out of your local shoes. And of course, if you are the first one, you are sailing in undiscovered waters. This brings many surprises and ad hoc challenges to solve. So you need to learn quickly and rapidly adopt new solutions.
Why, in your opinion, is it important for ING to be a platform business?
For Model Bank countries, the Czech Republic launch was the first step towards a full platform business. When all countries are onboarded it will provide ING with a faster time to market, a best-in-class digital solution, lower cost footprint and instant availability in all countries.

ING will be even closer to customers and be able to quickly serve their needs. We'll be able to innovate faster and align customer behaviour. It will empower them to do business with us in a fully digital way. This is the path to business growth and is enabled by high levels of standardisation across systems, processes and data.