ING records 1Q14 underlying net profit of EUR 988 million
NOT FOR PUBLICATION, DISTRIBUTION OR RELEASE, DIRECTLY OR INDIRECTLY, IN OR INTO CANADA, JAPAN OR AUSTRALIA
7 May 2014

ING Group 1Q14 underlying net profit of EUR 988 million from EUR 1,170 million in 1Q13 and EUR 493 million in 4Q13

1Q14 net result EUR -1,917 million, reflecting the deconsolidation of Voya and the impact of the Dutch pension fund changes



Bank 1Q14 underlying result before tax of EUR 1,176 million, roughly flat vs. 1Q13 but up 30.1% sequentially

1Q14 results driven by an increase in the net interest margin and a lower level of risk costs as economic conditions improved
10.1% fully-loaded CET1 ratio after payment to Dutch State and making closed defined benefit pension plan in NL independent
ING Bank attracted EUR 8.3 billion of funds entrusted and grew net lending by EUR 5.1 billion during the quarter



NN Group 1Q14 operating result ongoing business of EUR 274 million, up 61.2% vs. 1Q13 and 28.0% from 4Q13

1Q14 operating result ongoing business driven by solid results in Netherlands Life and Netherlands Non-life and lower expenses
Result before tax of EUR -372 million, reflecting impact of making ING's closed defined benefit pension plan in NL independent
New sales grew 20.6% vs. 1Q13 and 53.0% vs. 4Q13, at constant currencies; the latter driven mainly by seasonally high 1Q14



ING Group secures pre-IPO investments of EUR 1.275 billion and agrees final capital structure for NN Group

ING Group secures a total of EUR 1.275 billion in pre-IPO investments from three investors ahead of NN Group's intended IPO
EUR 850 million capital injection finalises capital structure; ING Group confirms intended IPO to comprise only secondary offering
Capital injection and issuance of subordinated debt will increase the IGD ratio of NN Group to a pro-forma 277%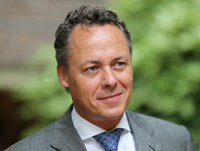 We made a strong start to 2014
Chairman's Statement
"ING Group made a strong start to 2014, posting a first-quarter underlying net result of EUR 988 million while demonstrating good commercial growth," said Ralph Hamers, CEO of ING Group. "At the same time, we reached significant milestones in our restructuring plan and sharpened the strategic priorities of our businesses to ensure they remain sustainable and competitive."
"In March, we presented our 'Think Forward' strategy for ING Bank, which outlines the actions we are taking to secure our future as a European banking leader, along with a focused set of financial targets for 2017. The core of our strategy is to create a differentiating customer experience. Our dedication to achieving high levels of customer satisfaction is evident in our most recent net promoter scores, which indicate that ING Bank is number one relative to its competitors in the Netherlands, Germany, Italy, Poland, Spain and Australia, and is number two in all other core markets. We are proud of this recognition from our customers and will continue to serve them as best as we can. Our new Chief Operations Officer will certainly help to advance our efforts."
"ING Bank posted a solid first-quarter underlying pre-tax result of EUR 1,176 million, reflecting an increase in the net interest margin and lower risk costs as economic conditions improved. Our consistent customer focus has enabled us to attract EUR 8.3 billion of funds entrusted across our franchise and to extend EUR 5.1 billion of net lending during the quarter. We are committed to supporting our customers' financial needs and will continue to grow lending through the economic recovery."
"Continued capital generation at ING Bank enabled us to make a penultimate EUR 1.225 billion payment to the Dutch State in March, bringing the total paid to the State since 2008 to EUR 12.5 billion. The capital position of ING Bank remained strong, with a fully-loaded CET1 ratio of 10.1% at the end of the quarter. The first-quarter underlying return on IFRS-EU equity rose to 10.2%, within the range of our Ambition 2017 target."
"At NN Group, the first-quarter operating result for the ongoing business was EUR 274 million, a significant improvement compared with both a year ago and the previous quarter, driven by solid results in the core Dutch businesses and lower expenses across the organisation. Commercial momentum was strong, with sales rising 20.6% year-on-year and 53.0% sequentially, at constant currencies. ING Group made significant progress in finalising its preparations for the intended IPO of NN Group, announcing last week transactions to secure important investments from three firms. Today, we announce measures to strengthen the company's standalone capital structure with a further EUR 850 million and confirm that the intended IPO will comprise only secondary shares."
"In April, ING U.S. started operating under the name Voya Financial, Inc. representing a new era for the company. We have reduced our stake in Voya to approximately 43%, fulfilling the requirement to divest more than 50% of this business by year-end. Although deconsolidating Voya brought us a step further in our strategic transformation, it also triggered a EUR 2,005 million after-tax loss. This impact, together with a EUR -1,059 million charge for successfully completing the Dutch closed defi ned benefit pension plan agreement and a EUR 202 million gain following the deconsolidation of ING Vysya Bank, led to the Group's quarterly net loss."
"As we look forward to the rest of this year, we remain committed to achieving our strategic priorities and advancing further towards the completion of our restructuring. I am confident that the work we are doing will strengthen our company for the long-term and that we are well positioned to achieve our purpose of empowering people to stay a step ahead in life and in business."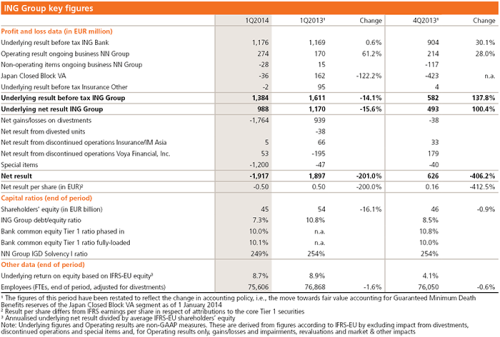 Analyst and investor conference call
7 May 2014, at 9:00 a.m. CET

NL +31 20 794 8500
UK +44 20 7190 1537
USA +1 480 629 9031

Listen to the investor conference call at www.ing.com
Press conference call
7 May 2014, at 11:00 a.m. CET

NL +31 20 531 58 47
UK +44 203 365 3210

Listen to the media conference at www.ing.com
IMPORTANT LEGAL INFORMATION
ING Group's Annual Accounts are prepared in accordance with International Financial Reporting Standards as adopted by the European Union ('IFRS-EU').

In preparing the financial information in this document, the same accounting principles are applied as in the 1Q2014 ING Group Interim Accounts.

All figures in this document are unaudited. Small differences are possible in the tables due to rounding.

Certain of the statements contained herein are not historical facts, including, without limitation, certain statements made of future expectations and other forward-looking statements that are based on management's current views and assumptions and involve known and unknown risks and uncertainties that could cause actual results, performance or events to differ materially from those expressed or implied in such statements. Actual results, performance or events may differ materially from those in such statements due to, without limitation: (1) changes in general economic conditions, in particular economic conditions in ING's core markets, (2) changes in performance of financial markets, including developing markets, (3) consequences of a potential (partial) break-up of the euro, (4) the implementation of ING's restructuring plan to separate banking and insurance operations, (5) changes in the availability of, and costs associated with, sources of liquidity such as interbank funding, as well as conditions in the credit markets generally, including changes in borrower and counterparty creditworthiness, (6) the frequency and severity of insured loss events, (7) changes affecting mortality and morbidity levels and trends, (8) changes affecting persistency levels, (9) changes affecting interest rate levels, (10) changes affecting currency exchange rates, (11) changes in investor, customer and policyholder behaviour, (12) changes in general competitive factors, (13) changes in laws and regulations, (14) changes in the policies of governments and/or regulatory authorities, (15) conclusions with regard to purchase accounting assumptions and methodologies, (16) changes in ownership that could affect the future availability to us of net operating loss, net capital and built-in loss carry forwards, (17) changes in credit ratings, (18) ING's ability to achieve projected operational synergies and (19) the other risks and uncertainties detailed in the Risk Factors section contained in the most recent annual report of ING Groep N.V. Any forward-looking statements made by or on behalf of ING speak only as of the date they are made, and, ING assumes no obligation to publicly update or revise any forwardlooking statements, whether as a result of new information or for any other reason.

This document does not constitute an offer to sell, or a solicitation of an offer to purchase, any securities in the United States or any other jurisdiction. The securities of NN Group have not been and will not be registered under the U.S. Securities Act of 1933, as amended (the "Securities Act"), and may not be offered or sold within the United States absent registration or an applicable exemption from the registration requirements of the Securities Act.