Ralph Hamers talking about trends in banking sector at CNBC in Davos
21 January 2016
...

min read
21 January 2016

This morning ING CEO Ralph Hamers was interviewed by CNBC live broadcasted from the World Economic Forum in Davos where he talks about the trends in the banking sector as well as about the European economy.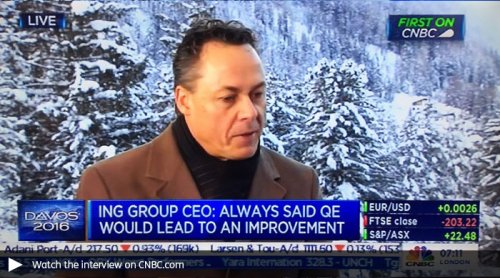 Asked about the impact of the European Central Bank's so called Quantative Easing (QE) stimulus programme Ralph said he saw a positive impact, also referring to ING's lending book of more than EUR 500 billion which is growing annually 2-3%.

"But we never said it would increase credit demand directly. QE is aimed at increasing supply and improving Europe's competitive position which should lead to more demand". "And maybe not to the extent as expected, but it has.", Ralph Hamers said.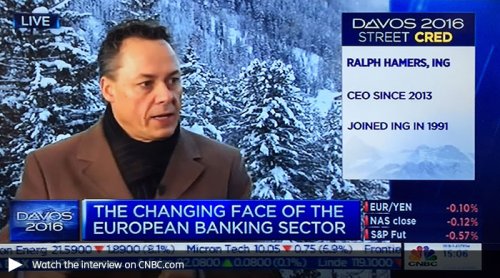 He also talked about the trends in the sector which will continue to have an impact on jobs as we will see more and more digitalisation within banks and because of the rise of Fintech. Pointing out to the success of ING's own Fintech, ING Direct, Ralph Hamers said. "ING-DiBa is the third largest bank in Germany, built from scratch. Actually because we have the Fintech capability."