2013 Sustainability Report is live!
28 March 2014
...

min read
Listen
ING Group has published its 19th Sustainability Report: "Simpler, stronger, sustainable". This report provides an overview of our sustainability approach, actions and performance in 2013.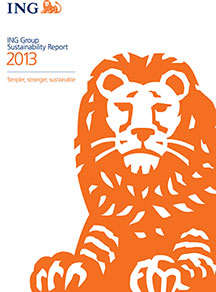 The updates are supported by data on key priority areas such as sustainable financing and investment, increasing the financial capability of our customers, environmental performance of our operations, our community investments, and on being a responsible employer.
ING's CEO, Ralph Hamers, says: "Our business, like any other, is affected by a rapidly changing world. Although we are a financial institution, our role goes beyond delivering monetary returns. We have an opportunity to use our scale, reach and expertise to help society achieve long-term sustainable prosperity."
Some of the key highlights of the report include:
Expanded and strengthened ESR Framework and Sustainable Procurement programme.
EUR 845 million increase in Sustainable Assets Allocated to EUR 6,570 million.
The carbon emissions per FTE decreased by more than 8%.
105,121 children reached this year through our partnership with UNICEF.
The report has been aligned with the ING Group Annual Report 2013, reflecting our ambitions towards a more integrated approach to financial and non-financial reporting. It also represents an opportunity to be transparent and to share the details of our performance. This report is intended to serve the information needs of the stakeholder groups that are most affected by our business: customers,
employees and investors. In particular sustainability rating agencies and analysts who will use the content for an in-depth analysis of our performance.