Two years of Terra
08 October 2020
...

min read
It's here: ING's second Terra progress report about our efforts to align our portfolio with the Paris climate goals. Three of ING's experts talk about how they make Terra work in practice.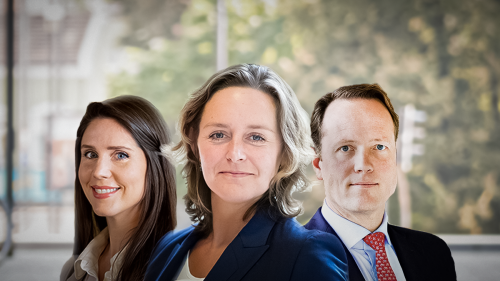 The report gives details on our progress, including targets, in the nine sectors in our lending portfolio most responsible for climate change. Most are on track for climate alignment, with progress still needed in some.

But how does 'steering our portfolio' actually work? Do clients value our advice? And what about our reduction target for oil & gas, is it good enough? Here are three questions for Leonie, Michiel and Kaitlin.
The sustainable finance head: Leonie Schreve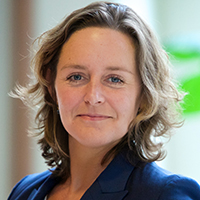 Are you seeing clients move towards 'Paris'?
"Absolutely. In general, sustainability isn't seen as a 'nice to have' by clients – it's seen as a 'must have'. For example, we recently closed a transaction where a few years ago the client had a more 'wait and see' reaction to sustainability. We planted the seed back then and now they appointed us in a crucial role on a green transaction.

"In all client conversations we discuss their commitment to Paris, their plans, and where can we help them move towards Paris. We're working with a lot of companies to advise them – what is their trajectory, what activities do they need to dispose of, what do they need to invest in more. We can really team up and provide a variety of financial products to finance their transition to tomorrow's economy."
How do you convince them it's time to act?
"For some sectors, in particular for automotive, the Terra team started to develop the client dashboard. It gives an overview of the market players in the sector and how the client is doing related to the benchmark. It's a good tool to use to start a dialogue, first to confirm that they recognise what we see in our forward-looking data. Then as a way to say, if you are below the benchmark, how can we help you accelerate to get either at or above the benchmark. We can help, for example, by specifically financing their 'green' activities or agreeing on transition targets that we structure into the pricing of the facility. It makes it much more tangible."
What's the impact of Covid?
"Sustainability is still very high on the agenda of clients. Our business volume in sustainable finance is still in line with the targets we set. On the other hand, we see that if things like this pandemic happen, the market can change rapidly. This may also mean that we can accelerate building back better, but this will be a joint effort from private sector players to governments and other stakeholder groups.

"The biggest challenge about aligning our portfolio is that although we can have some influence by talking to our clients and structuring transactions, if the market isn't moving rapidly enough, we can't sit in the driver's seat per sector to make change happen. We are committed and we can facilitate change, but we're ultimately dependent on where the economy is moving."
The global energy sector head: Michiel de Haan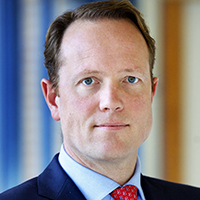 How did you come up with the 19% upstream oil & gas reduction target?
"It's from a methodology that we created with four other global banks and our partner 2DII. Everything that has to do with climate change requires everyone to pull together in the same direction, that also goes for banks. We need to create a level playing field and provide the transparency that stakeholders demand of us.

"The 19% reduction target is based on the sustainable development scenario (SDS) developed by the International Energy Agency (IEA), which is the most reputable institution globally in this field, acknowledged by governments, NGOs and companies alike. The IEA developed this scenario that provides a roadmap to alignment with the Paris Agreement over time. Their scenario analysis shows that if we want to hold the global average temperature increase to well below two degrees , demand for oil and gas has to be reduced by at least 19% from today. That's why this is our minimum reduction target."
Will we still need oil and gas?
"Even this scenario indicates that in 2040 there will still be a need for oil and gas as essential building blocks for society to function. We'll gradually see less demand as it's partially replaced by renewable energy alternatives. This doesn't mean it will be obsolete.

"We are the first global bank that sets this target. This makes us the clear frontrunner. Not everybody will be satisfied with our target. But remember – we're setting the standard. Plus, with Terra, we commit to using the SDS as our measuring stick.

"Let me explain. The energy transition pathway for the Paris Agreement is reassessed every year. So if the SDS adapts to require more drastic reduction targets for oil and gas, at a faster rate, that revised scenario will still guide the direction that ING will take."
Will we say goodbye to clients that don't comply?
"We're not talking about exiting clients to reach this target, we're talking about engaging with clients. By understanding how they each go about steering their businesses to align with the ambitions of Paris, that's where we want to make a difference. We want to help them take that route. We can support clients with our industry insights and incentivise them financially or otherwise to take the necessary steps, for example by reducing the emission intensity of their activities.

"Still, at the end of the day we start new client relationships and say goodbye to clients for a whole range of reasons on an ongoing basis. Ultimately, we do expect clients to work with us towards the common goals we have as society. If clients have an ambition that takes them in a different direction, we will reconsider our relationship."
The project lead: Kaitlin Crouch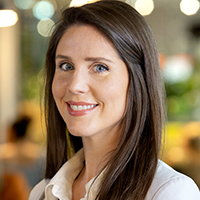 How do you feel about the second year of Terra?
"It's been so gratifying to see the Terra approach come to life. So much effort has gone into getting this far, from collecting data, determining what kind of methodology works best in each sector, to the many discussions with other banks and our partner 2DII. We know where we are and where we're going. Now we can focus on getting there."
Why the focus on sectors?
"It's impossible to use one overarching methodology to move towards the well-below two-degrees goal. You have to know per sector what's making the sector move, what's needed. If you take the automotive sector for example, we first determine what percentage of a client's vehicle production consists of combustion engines, what percentage is hybrid, what is electric. Then we look at the Paris goals and assess, OK, in electrification a lot needs to be accelerated. As you can imagine, you can't use the same measurement for electric vehicles as you can for cement. You need to know what will bring about the change in each sector."
How far are we now with Terra?
"We've come a long way and have landed on a viable way forward that allows us to take action today. Of course it's still a work in progress. We didn't want to wait for the perfect methodology, because there is an urgency to act. So we decided to move forward and tackle problems along the way. We're honest about what we're facing and how we're handling it. Doing it this way and being open drives action not only within ING, but also externally.

"The other thing that Terra is based on is collaboration. We can sit here in our (home) offices and come up with what we think is the right way to measure and steer, but if we do it by ourselves what effect will it really have? The only way to create real change is to do it together within the financial sector. That's why we actively worked with other banks in piloting the methodology with 2DIIi. That's also why it's open-source, open for all banks to use. I hope this is just the beginning."
What's the news?
Our second Terra report is out. It shows our detailed progress and targets on climate alignment in our nine sectors most responsible for climate change.
The nine sectors are mostly on track for climate alignment, with progress still needed in some.
One of the targets is to reduce financing to upstream oil & gas by 19% by 2040 from 2019. This is in line with the International Energy Agency's Sustainable Development Scenario to meet the Paris goals.
Our approach to climate alignment is inclusive (we work with our clients to facilitate and finance their shift to low-carbon technology) and collaborative (we work with other banks and experts to set an open-source methodology standard for the sector and thereby increase our impact).
Related stories