Unseen 2019: "… unlike anything we've seen before"
23 September 2019
...

min read
Listen
Photographers Karolina Wojtas and Kevin Osepa are the winners of the 2019 ING Unseen Talent Award. Karolina, 23, from Poland, won the €10,000 Jury Prize with her work 'We Can't Live Without Each Other', while Kevin, 32, from Curacao, was voted the public's favourite.
This is an External video.
This video is unavailable because of your cookie settings. Accept cookies and the video will be available.
Inspired by this year's theme 'nature of change' and the challenge to reflect on 'the evolution of society and nature', Karolina created her winning work around the topics of childhood, education and love in Poland.

What struck the jury about her work was the originality, the personal approach and the fearlessness.

"It's unusual to see an artist explore the theme of sibling rivalry and the execution is unlike anything we've seen before," they said.

This year's judges were visual artist Joana Choumali, Benthem Crouwel architect Mels Crouwel, Tate Modern curator Emma Lewis, New York Times photography director Kathy Ryan and ING collection curator Sanne ten Brink.

Kathy Ryan announced the winner of the jury prize, while Isabel Fernandez, head of Wholesale Banking and member of the Management Board Banking, revealed the public prize winner.

The three other finalists were Elena Aya Bundurakis (1988, Greece), Ulla Deventer (1984, Germany) and Irene Fenara (1990, Italy).

The ING Unseen Talent Award is an initiative of ING Bank and contemporary photography platform Unseen. It was created to provide a platform to showcase exceptional European photography talent on an international level.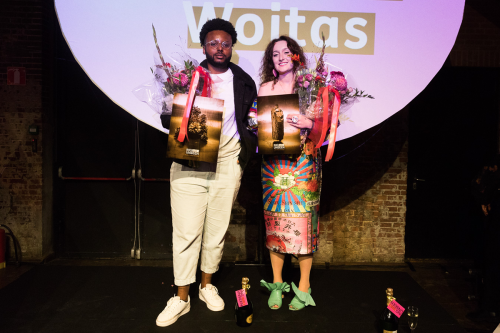 The winners: Karolina Wojtas and Kevin Osepa.

Some of the finalists' works
Related stories
---